Indian Style Butter Chicken serves as a pretty simple way to try some Indian-style food.  The chicken is combined with a rich, spicy and creamy tomato-style sauce spiced a bit differently than would be a perhaps more familiar Italian style tomato sauce. Indian Butter Chicken is similar to chicken tikka masala, but is way easier to implement.
I started making this about a year ago for my wife. My wife has been on the keto diet for about a year and a half now. One day she had gone to a kid's birthday party where they served Indian Butter Chicken. And she loved it. So she asked me to make it at home, and to try to keep it keto. After requesting it for a few weeks, I believe I finally made it for her birthday. Since then this recipe has received good repetition in my cooking repertoire.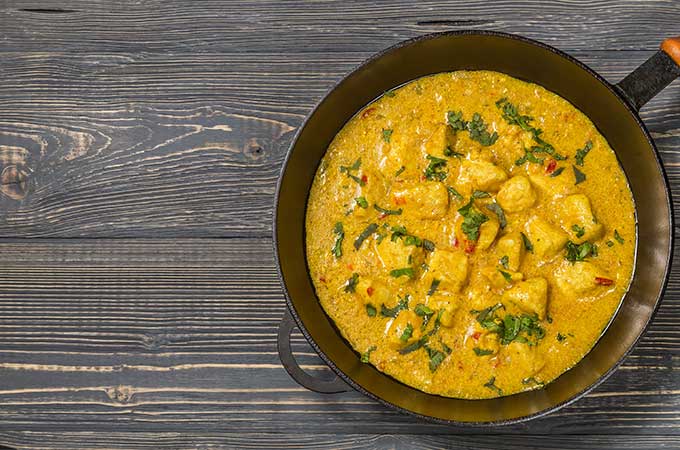 The recipe here may or may not be considered keto; people may quibble over whether the onions and tomatoes takes this outside of the requirements of keto. If you believe the tomatoes and onion don't meet your requirements, just keep them out, as well as the rice. The chicken will still be great all by itself.
Indian Butter Chicken makes for a technically sound recipe. Cooking the chicken chunks begins in the pan with the butter, onions, and tomato paste. Thereafter, the chicken finishes cooking by braising in the cream sauce. Chicken breasts are prone to drying out when cooked, but sauteing chicken breasts in a delicious sauce is a great way to finish them off without drying them out. And the sauce that gets created in this recipe is simply delicious. Even when we have eaten all of the chicken, we are still gobbling up the sauce.
If you do not have much experience with Indian-style food, Indian Butter Chicken can serve as a good introduction. So go ahead and give it a try!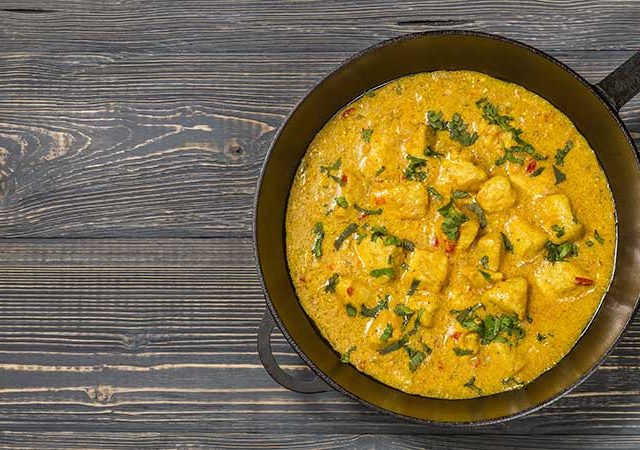 Indian Style Butter Chicken
Delicious, spicy, rich, and creamy Indian butter chicken for the win!
Keyword:
Butter, Chicken, Indian
Ingredients
4

tbsp

butter

1

cup

diced sweet onion

1/2

cup

drained diced tomatoes

(optional)

1.5

pounds

chicken breasts

1

cup

heavy cream

2

tbsp

tomato paste

1

cup

baby spinach

(rough chopped)

2

tbsp

ground turmeric

1

tbsp

groud cumin

1

tbsp

curry powder

t

tsp

cinnamon

1

tsp

ginger powder

1

tsp

garlic powder

pinch

salt and pepper

2

cups

white or basmati rice

chopped fresh parsley to top
Instructions
Roughly chop your chicken breasts into chunks, about 1.5 inches square. In a separate small bowl, combine your spice mix. In a large bowl, mix the chicken with your spice mix and ensure the spice mix uniformly coats the chicken. You may want to use gloves for this or use mixing spoons, as the turmeric in the spice mix can color your fingers and nails yellow. Let the chicken sit in the refrigerator for at least one hour.

Preheat your large skillet over low to medium heat.

Add butter. Let it melt. Then add the onion. Let the onion cook until it appears translucent, about five minutes. Add the tomato paste and let it warm up and release its flavors, about five more minutes.

Next, add the chicken. Mix the chicken every two minutes or so to ensure it cooks uniformly.

Once all the chicken appears cooked uniformly, add the cream, spinach, and diced tomatoes, and mix it all together.

Switch to low heat and allow the cream, spinach and tomatoes to saute gently, just below boiling, for about 15 minutes. Try not to overcook the chicken, chicken breasts can overcook and dry out pretty easily, but this recipe works well with chicken breasts as long s you keep the heat under control.

Plate out some butter chicken with a serving of rice and enjoy!