I will admit to a bit of confusion about Italian Wedding Soup myself. It's so obvious when you hear the name, it must be served at Italian weddings right? Nope, wrong. This soup has nothing to do with weddings. Marriages maybe, but not weddings.
Okay, what the heck am I talking about? Italian Wedding Soup was another of these so-called peasant soup dishes, made with ingredients that were readily available to the Italian common folks. The soup is called "minestra maritata" in Italy, which translates to "married soup." But the name refers to the marriage of flavors between the soup broth and the leafy greens, not a major celebration at which it might be served. Come to think of it, I don't think I have ever had Italian Wedding Soup at a wedding. In Italy, the traditional recipe did not really call for beef and pasta, that seems to be an American addition. Americans added meat and pasta to a traditionally meatless pasta-less dish? Shocking I know.
Obviously there are a zillion recipes for Italian Wedding Soup. Some use beef for the meatballs, others pork, or perhaps even chicken or turkey, and there are a myriad types of pasta you can use like ditalini, orzo, or pastina. I, rather like the common folk of Italy, made this recipe on this day with what I had available, so I used two sausage links I had left over, along with some small pasta noodles.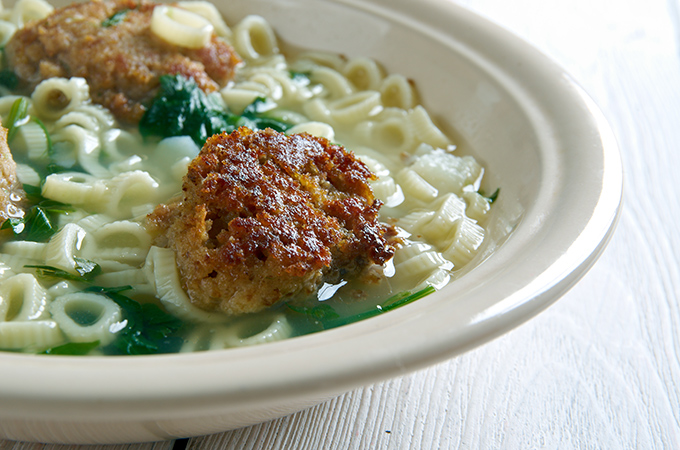 Behold, here it my Italian Wedding Soup recipe: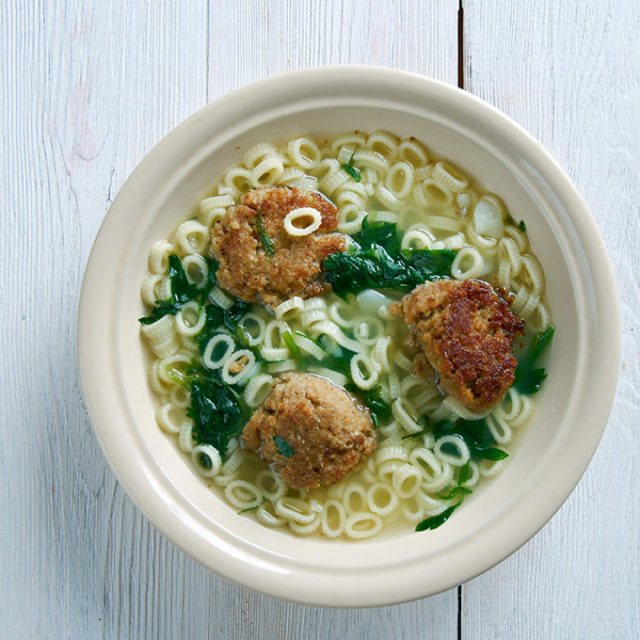 Italian Wedding Soup
A simple and delicious Italian style soup with sausage, escarole, and fennel.
Ingredients
1/2

cup

olive oil

1/2

medium sweet onion

(finely diced)

1

head escarole

(well washed, chopped)

1

egg

2

links Italian sausage

1/4

cup

bread crumbs

1

teaspoon

fennel

1

teaspoon

rosemary

4

cups

chicken stock

1 1/2

cups

small pasta

salt and pepper to taste

Pecorino-Romano cheese for serving
Instructions
Remove the sausage meat from its casing and pick apart into small chunks.

Mix the sausage, egg, bread crumbs, and fennel together in a bowl. Then use the mixture to create marble sized sausage meatballs. Sear the sausage meatballs in a skillet. Drain the excess oil so the oil doesn't discolor your soup broth.

Blanch the escarole in boiling water, drain, season with a pinch of kosher salt, and set aside.

In a medium saucepan, saute the onions in the olive oil for five minutes. Add the rosemary and continue for five more minutes.

Next, add the chicken stock, sausage meatballs, pasta and escarole. and bring to a slow boil. Turn the heat down to low and simmer for 30 minutes.

Salt and pepper to taste and serve while hot with Pecorino-Romano.