Okay, you don't really get much more in the traditional Italian flavors department than this. When you think of Italian food, you of course think of tomatoes. You think of basil. You think of olive oil. And you think of garlic. Now think of all of those aromas filling up your kitchen at once. That's what you get in this healthy and super hearty tomato and basil soup! This is one of my all time favorite soups, the taste is always fresh and great!
This soup is really a great way to use up a lot of fresh vegetables. Slow roasting the vegetables really lets you bring out the flavors of the tomatoes, carrots, and onions. Don't forget to have the best Parmesan cheese available for  this soup: Parmigiano-Reggiano – the king of cheeses! The salty savoriness of the cheese just brings this soup together so well.
Make sure you have some crispy Italian bread available on the side for some dipping action. You always have to have the crispy Italian bread at the ready when you are diving in to an Italian soup. So GOOD. So PERFECT! If you love a little pasta in your soup, a small pasta will work great with this soup. I would recommend some pastina or orzo as the perfect addition.
A few tips: your ingredients must be absolutely fresh. You won't get a fresh tasting soup if you don't use fresh ingredients. Fresh tomatoes, fresh chopped basil, fresh garlic, and fresh carrots are a must. You also don't need any cream in this recipe. The vegetables themselves will make this soup nice and thick and creamy. Lastly, I really prefer to strain this soup before eating it. But my wife will eat it without straining. I just prefer the texture better when it strained. But that is really up to your personal preference.
Here's how to make this delicious Tomato and Basil Soup!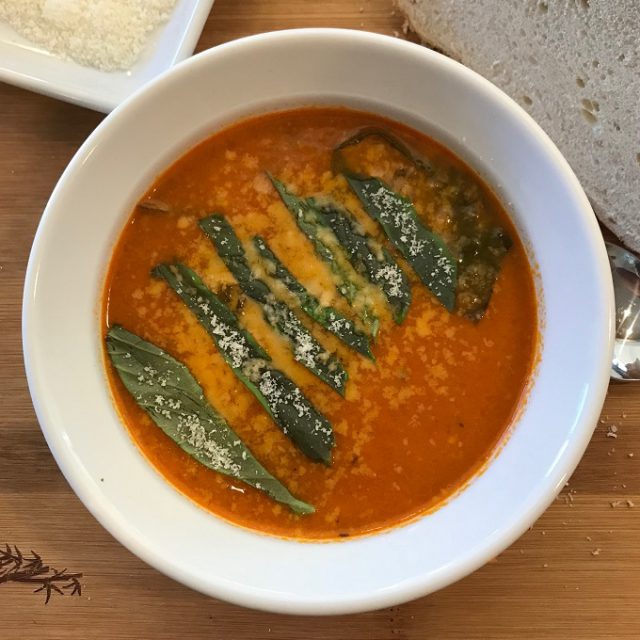 Roasted Tomato and Basil Soup
A slow roasted soup made with the three ingredients Italian food is best known for: plum tomatoes, basil, and garlic! Oh yeah! A simple yet super delicious treat for those cold autumn days.
Ingredients
10-12

medium sized plum tomatoes

(about three pounds, slice in half lengthwise)

10-12

baby carrots

1

medium size yellow onion

(chopped into large chunks)

6

garlic cloves

(peeled and smashed)

about three cups large basil leaves

(roughly chopped)

1

Parmigiano-Reggiano rind

2

cups

vegetable broth

(or substitute 1 cup chicken broth and 1 cup beef broth)

extra virgin olive oil

1

tsp

oregano

1/2

teaspoon

crushed red pepper

kosher salt and pepper to taste
Instructions
Prep your tomatoes and onion. Place on a shallow baking sheet with the baby carrots in one layer. Drizzle with about a quarter cup of extra virgin olive oil and slow roast the vegetables in the center of your oven at 250 degrees for three hours. Keep an eye on the roasting vegetables, give them a turn every half hour so they roast evenly. If any of the vegetables appear to be roasting too quickly, move them around. With about an hour of roasting left, add the garlic cloves.

After three hours, remove the roasted vegetables and place them into a food processor or blender. They are going to be hot, so gently pulse them at first and if necessary allow any steam generated to get out of the blender or processor. Continue to puree the vegetables until they are as smooth as possible.

Put the pureed vegetables into a large sauce pan over medium heat. Add the Parmigiano-Reggiano rind, broth, chopped basil leaves, oregano, and red pepper, and give it all a good stir.

Bring to a simmer and keep simmering while stirring occasionally for about 20 minutes. Add a pinch of salt and pepper to taste.

After about 20 minutes of simmering, you have a decision to make. Do you filter the soup or not? I like to filter the soup so it becomes a more silky smooth tomato soup. However, my wife likes the soup without it being filtered. Either way is fine I suppose, it really comes down to preference. If you decide to filter, run the soup through a fine mesh collander or food mill, and collect the liquid in a bowl underneath. When finished, put the liquid back into the sauce pan and bring back to a simmer. Check the salt and pepper seasonings one more time.

When finished, serve with some fresh chopped basil leaves, grated Parmigiano-Reggiano and some slices of crisp Italian bread. And enjoy!