This is a classic recipe for Italian–Style Meatballs. Following the process here will give you meatballs that are crunchy on the outside and moist and delicious on the inside, just as you want them to be. This is a recipe that will be loved by everybody, of course you must serve them bathed in your favorite Italian sauce. This is an adaptation of a recipe from my mom and dad, no doubt passed down through the generations.
These meatballs will be delicious in a bowl with sauce and a sprinkle of basil and parmesan cheese, on top of a bed of macaroni, or put a few of them on some crunchy Italian bread with some mozzarella cheese and oven baked for an outlandish meatball sub topped with melted mozzarella cheese.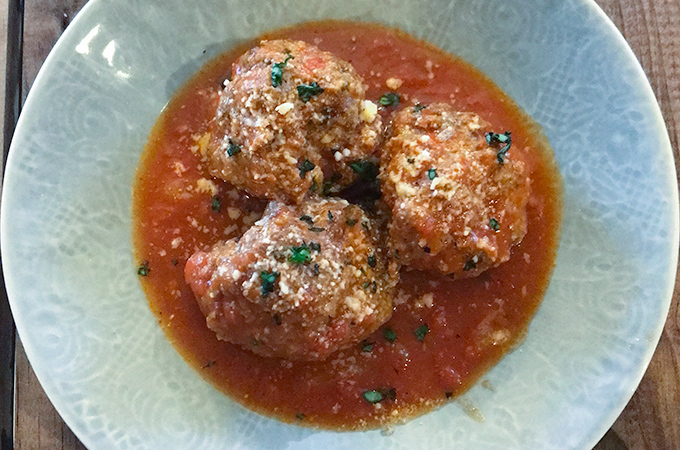 Enjoy, here it is my recipe for delicious crunchy and moist Italian-Style Meatballs.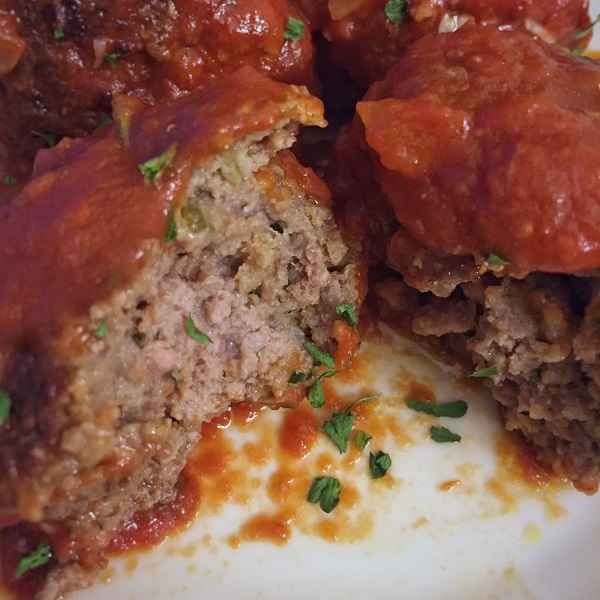 Italian Style Meatballs
Italian-style seasoned beef and pork meatballs, the classic Italian American staple food.
Ingredients
2-3

tablespoons

vegetable oil

(high temp oil, like avocado or grape seed)

2

lbs

chopped beef chuck/pork mixture

2

eggs

1

cup

bread crumbs

1/2

cup

grated Pecorino-Romano cheese

1/2

cup

milk

1

tablespoon

powdered garlic

1

tablespoon

oregano

1 1/2

tablespoon

parsley

1

teaspoon

kosher salt

1

teaspoon

crushed black pepper

5

cups

tomato sauce
Instructions
In a large bowl, combine the meat, eggs, bread crumbs, cheese, milk, garlic, oregano, parsley, salt, and pepper. Mix well with your hands until all ingredients are uniformly distributed. If the mixture appears too loose, add additional bread crumbs 1/4 cup at a time. If too dry, add 1/4 cup of additional milk.

When the meat mixture is well formed, take a chunk of meat and create a ball, about 1/2 to 3/4 the size of a baseball. Depending on the exact size, you should be able to create 15-20 meatballs. The balls should hold together pretty well.

Put a cast iron skillet over high heat and let it get nice and hot. Add the oil and let the oil heat up to about 350 degrees. You don't want a deep pool of vegetable oil here, just a thin layer of oil in the skillet.

Drop the formed meatballs in the skillet, working in separate batches as necessary. You are not trying to cook the meatballs through at this point, you just want to get a good sear on the outside of the meatballs. This will help you get the crunchy exterior and soft interior that is so desired with meatballs.

Before you began cooking the meatballs, you should have begun cooking your sauce in a separate sauce pan. After the meatballs are seared, drop them into the sauce and slow cook them over low heat for at least one hour.

When done, remove the meatballs to separate serving bowl and serve over macaroni, on bread for a delicious meatball sub, or as a separate snack.