This weekend I had some inspiration to make some Slow Cooked Steak Pizzaiola. Jaime recently bought me a new crockpot and last Sunday I made a meat sauce with meatballs, sausage, pork chops, and braciole (which will be its own post sometime soon), and I ended up having some steak and tomato sauce left over.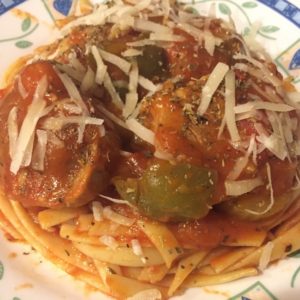 So I got a great idea. Let's use these leftovers to put together something simple this weekend? Our kids have to be some of the most picky eaters there are, but steak always seems to go over well. Enter my Slow Cooked Steak Pizzaiola.
All I needed to do was get some peppers and an onion and I was all set. It turned out to be some no fuss deliciousness. I served it over a bed of spaghetti. If you don't have a slow cooker, you are really missing out on some simple set it and forget it recipes that will cook all day long with minimal effort. And when you are done the beef will be falling apart tender and juicy. Really a great simple way to enjoy some steak Italian-style!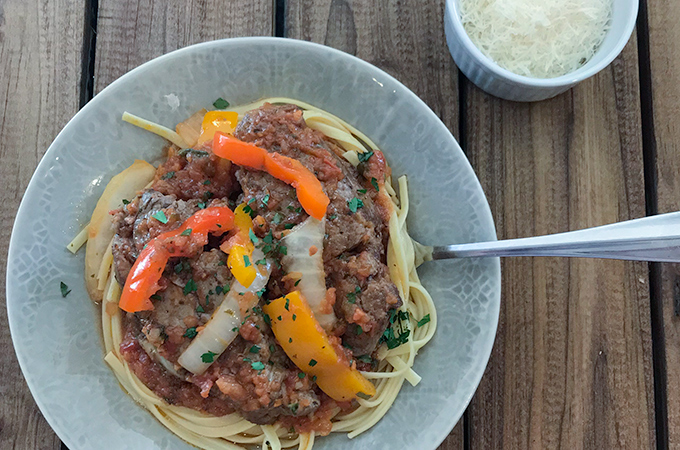 Hope you enjoy my Slow Cooked Steak Pizzaiola.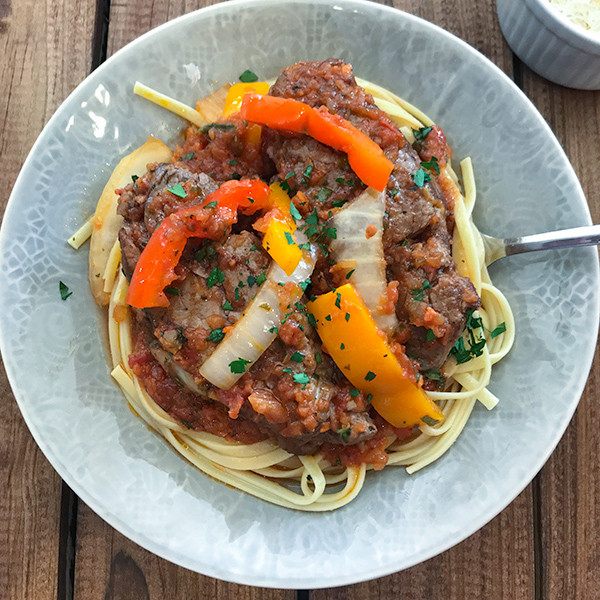 Slow Cooked Steak Pizzaiola
An easy slow cooked steak recipe with delicious Italian flavors..
Ingredients
2

lbs

London broil or beef tenderloin

1/4

cup

extra virgin olive oil

1

medium sweet onion

(coarsely diced)

2-4

red and green peppers

(sliced)

4-5

garlic cloves

(minced)

2

cups

tomato sauce

1/4

cup

red wine

1/2

cup

water

1

teaspoon

fresh chopped oregano

1

teaspoon

fresh chopped basil

salt and pepper

grated Pecorino-Romano cheese

(to taste)

1

box pasta
Instructions
Cut the London broil into six or eight smaller pieces, about a half inch thick. Season each piece on both sides with some salt and pepper. In a hot cast iron skillet (about 350 degrees), sear the beef on all sides for about 1 minute per side.

Add the olive oil to the slow cooker, then the beef and the garlic. Let it sit for five minutes, then flip the beef over. Let it sit for five more minutes.

Add the onions, peppers, tomato sauce, red wine, oregano, and water.

Top with salt and pepper.

Cook on high for three hours or low for 5 hours. Add the teaspoon of basil and mix. Continue cooking for one more hour.

Remove from heat and serve a ladle-full or two over a bed of al dente spaghetti, with the Pecorino-Romano cheese.