My father loves to buy garlic infused olive oil at the various Italian stores he has access to up where he and my mother live in New York. Down here in South Carolina it seems to be a little more difficult to find. One day I wanted to have some garlic infused olive oil to use on a grandma pizza pie I was making, so I decided to go ahead and just make what I needed.
I used fresh garlic cloves, fresh diced sweet onion, to infuse delicious flavor into my favorite extra virgin olive oil. Now you shouldn't just dump fresh garlic into the oil and call it a day. There is a non-minimal risk of botulism contamination of your garlic cloves. So you need to give it all a good cook in a frying pan to minimize that risk. Below is my recipe for a pretty garlic-y extra virgin olive oil. I call for 5 garlic cloves in this recipe. But you will have to experiment a bit for yourself to get the garlic taste to your desired level. You can also think about adding some herbs to the recipe, such as a sprig or two of rosemary or teaspoon of chopped oregano. The possibilities are pretty good for experimenting with this recipe.
You can use garlic infused olive oil when making a homemade pizza like I did, or as the start of a garlic and oil butter sauce or tomato sauce for pasta. Enjoy!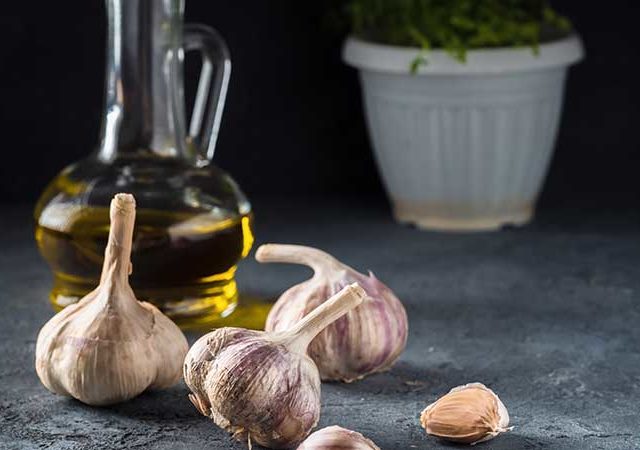 Garlic Infused Olive Oil
A simple recipe for garlic infused olive oil.
Ingredients
160

ml

extra virgin olive oil

5

cloves

fresh garlic

(roughly chopped)

1

cup

sweet onion (diced)

(about 1/2 of a small onion)
Instructions
Preheat skillet over low-medium heat. Don't let it overheat. You don't want to burn or scorch the oil. You want the oil to remain just below it's smoking point, so if it starts to smoke, reduce the heat a bit.

Once heated, add the diced onion to the oil. Let it cook to translucent, but don't let it burn. Should cook about five minutes.

Next add the garlic and any herbs you may have decided to add to the recipe, such as rosemary or oregano. Continue to saute for at least five more minutes. Stir it all so nothing scorches or burns.

Lastly, remove the oil from the heat then run the oil through a filter fine enough to filer out the onions and garlic. Let the filtered oil cool off and it is ready for use. You will be left with approximately 150 milliliters, which can be used up pretty quickly.But you can probably keep it around for a week or so thereafter.