Pico de gallo is one of my favorite dishes to make. And why is that? Well, it's absolutely delicious! Two, it is super fresh and healthy. And three, CILANTRO! I love working with cilantro. While maybe cilantro isn't everybody's cup of tea, I absolutely love chopping up a bunch of cilantro. It gets so deliciously fragrant, and its scent always immediately reminds me of the taste of fresh pico de gallo!
Pico de gallo is so versatile. It is amazing as a fresh dip for chips, it makes a nice topping for roasted chicken breast, and don't even get me started on using it as a topping for tacos and burritos. YUM!
Actually, one of my favorite fast food restaurants is Taco Bell. Yeah, I will admit it. It has been since I first went over 20 years ago. But lately I have been trying to watch my calories and I have had some pretty good success with that over the last six months. So I need a good way of dealing with Taco Bell, because I cannot force myself to just not have it.
So the way I have been dealing with my Taco Bell addiction is to only eat their food "al fresco" style. If you order an item at Taco Bell "al fresco" style, they replace the cheese and sauces, or sour cream, with pico de gallo. It really makes a terrific and healthy alternative. The item I typically get is the regular chicken gordita al fresco style, which is 240 calories this way, and I believe 300 calories in the supreme style. So there's a bit of calorie savings just by making a more informed, but still a delicious choice.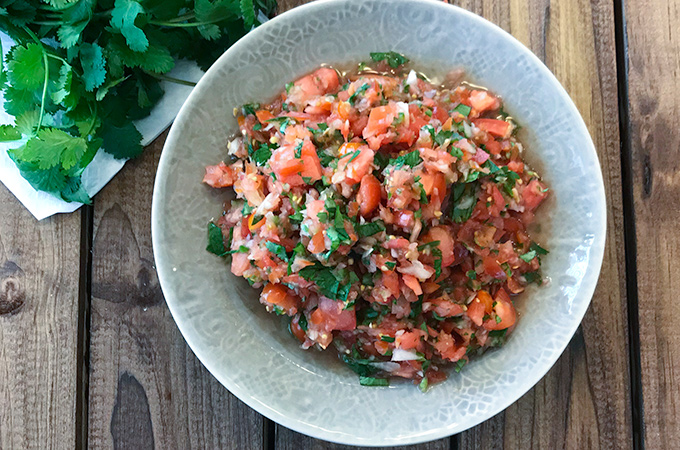 Some tips for pico de gallo. Speed up your chopping a bit by using a food processor to chop the tomatoes, onions, and jalapenos. Just chop them roughly down to one inch pieces and let the food processor do the rest. Also, make pico de gallo in advance of when you need it. Something about letting pico de gallo chill for a few hours or overnight in the fridge really lets the flavors come out and become super extra delicious.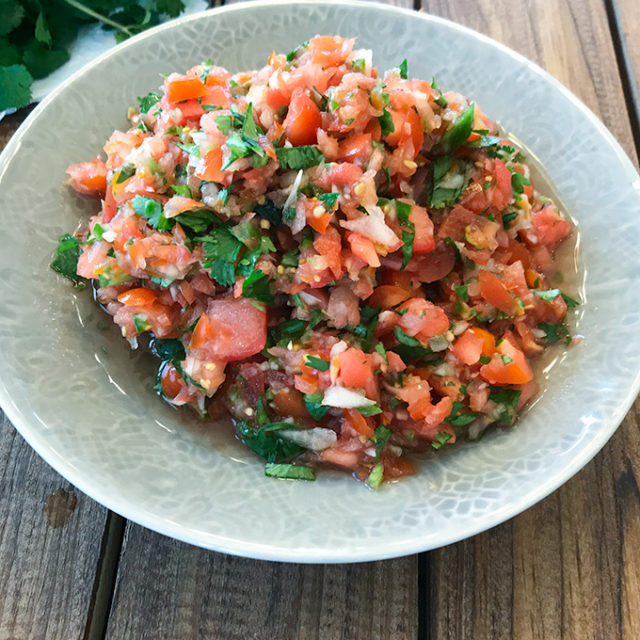 Pico de Gallo
Super fresh and amazing pico de gallo makes a healthy and delicious dip and topping.
Ingredients
6-8

medium sized plum tomatoes

1

medium sized sweet onion

3-6

medium sized jalapeno peppers

3 for milder, 6 for pretty darned hot

juice from 1 lime

1

cup

chopped fresh cilantro

1/2

teaspoon

salt
Instructions
Either cut the tomatoes, onion, and jalapenos into a fine to medium dice, or chop each into rough one inch pieces and chop separately in food processor to a fine to medium dice. If you want to take some of the heat out of the jalapenos first, remove the seeds and inner membranes before dicing.

Place together in a large bowl and mix. Allow to steep together for 15 minutes.

Next, add the lime juice, cilantro, and salt and mix again.

Chill in the refrigerator for several hours, at least two, prior to serving. Can be made the day before serving as well.

Use as a dip for chips or veggies, or as a topping for chicken or tacos.