These Barbecue Chicken Nachos are just perfect for the Super Bowl, or for any big game you are excited to watch! These nachos are loaded with delicious barbecue chicken, melty queso, kickin' jalapenos, and savory Rotel.
A word about barbecue chicken. Even though I grew up in the north, living in the South as I have over the past decade, I have learned a bit about barbecue. Nowadays, when I hear barbecue, I literally think of meat that has been cooked in a smoker for a long time over low indirect heat. For this year's Super Bowl I decided I wanted to develop a barbecue chicken nachos recipe that I could perhaps make in a single skillet. Looking online at several recipes, I noticed that recipes for barbecue chicken nachos were universally just calling for a couple of chicken breasts baked in an oven and then covered with some barbecue sauce! No no no!!! That's not barbecue chicken! I might have went for that when I lived up north, but not after a decade of southern barbecue. No way!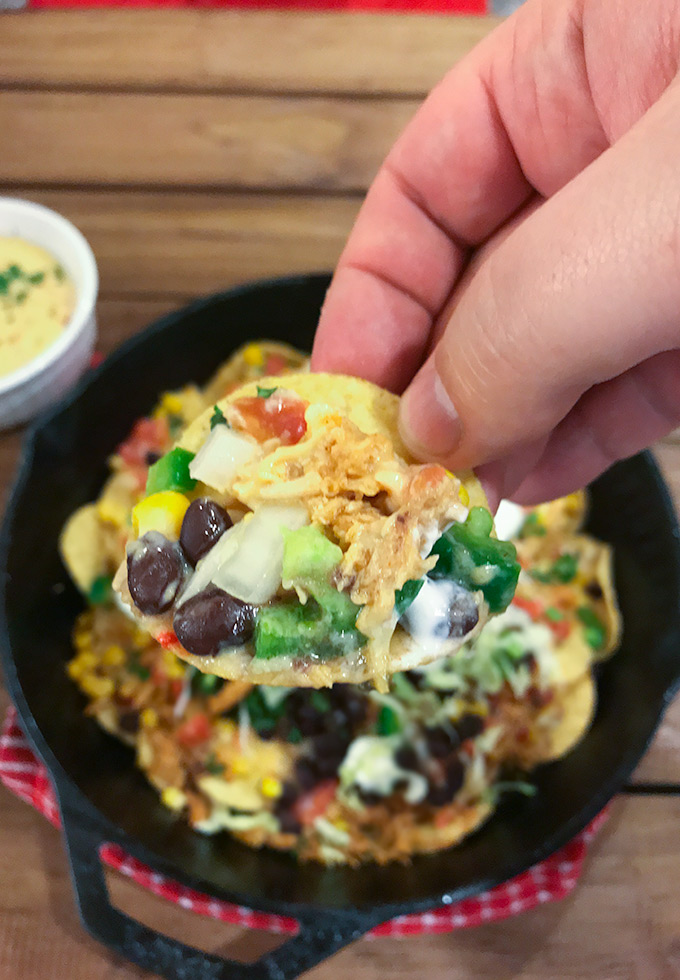 So this is what I decided to do. I don't own a smoker. But I sure know several places to get super delicious and flavorful real barbecued shredded chicken. So this recipe for loaded barbecue chicken nachos makes it a bit easy for you in that you don't have to smoke the chicken yourself, unless you own a smoker and want to. For this day, I was lucky enough to get the shredded barbecue chicken at my local Lowes Supermarket, which has a smoker out front so it can sell smoked chicken, pork, and ribs. Do yourself a favor, find yourself a local place where you can find real flavorful barbecue chicken and use them to simply prepare this amazing barbecue chicken nachos recipe.
Just a couple of tips. First, use a thick restaurant tortilla chip. You are going to need a sturdy chip to stand up to the toppings in these nachos. Get as thick as you can, or you are going to have lots of broken and soggy nachos. Tostitos tends not to be sturdy enough to make with nachos. Second, make sure your cheese sauce becomes nice and thick. Best way I can think of to test this is by putting some into a small bowl.  If it swirls around to easily as you move the bowl, it is too thin. Third, make sure your corn, beans, and Rotel are well drained. Again, if there is too much liquid, the chips are more likely to get soggy. And along the same lines, if you put some barbecue sauce on the chicken, don't overdo it. Remember, less is going to be more, too much liquid equals soggy nachos.
Here's how to make delicious real Barbecue Chicken Nachos for the big game!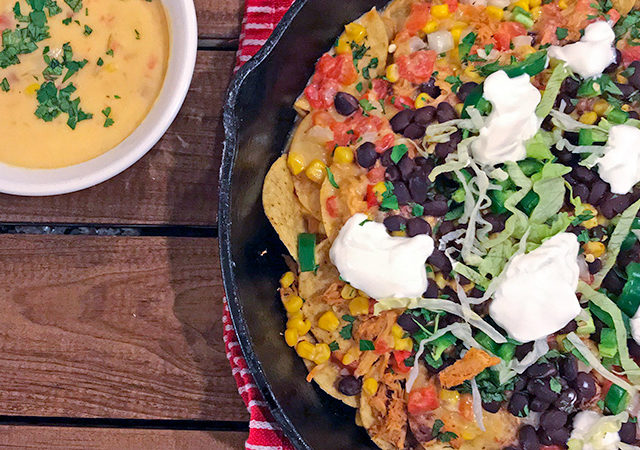 Barbecue Chicken Nachos
Delicious barbecue pulled chicken, queso, jalapenos, tomatoes and chilis combine into a flavorful snack that is perfect for game day!
Servings
:
8
game watching people
Ingredients
36

round or triangle tortilla chips

(thicker chips are better than thin)

8

ounces

barbecue pulled chicken

4

tbsp

butter

1 1/2

cups

milk

5

tbsp

flour

2

cups

shredded Mexican cheese mix

(50/50 mix of home shredded cheddar and monterey jack work well)

1/2

large yellow onion

(finely diced)

2

jalapeno peppers

(sliced and chopped into quarters or diced)

1

can

Rotel

(10 ounce can, well drained)

1

cup

corn

(southwest style, well drained)

1

cup

black beans

(well drained)

2

tbsp

fresh chopped flat Italian parsley

2

tbsp

fresh chopped cilantro

salt and pepper
Instructions
Make a thick roux by melting the butter over low heat and mixing in the flour. Put the milk over medium heat until it is just about to boil. Do not burn the milk. Once hot, slowly add the milk to the roux while mixing and mix well until uniform creating a thick bechamal sauce.

Turn the bechamal down to low heat and slowly add the shredded cheese. Mix often until the cheese has uniformly melted into a thickened cheese sauce. Add the chopped onions, Rotel, half of the corn and half of the chopped jalapenos and allow to slowly simmer, but not boil. Season with salt and pepper.

Preheat your oven to 350 degrees.

Line the bottom of a 12 inch oven safe skillet with thick tortilla chips. Next, add a layer of the shredded chicken and some of your cheese sauce. Sprinkle on half of the remaining beans and corn, as well as half of the remaining chopped jalapenos.

Repeat by placing another layer of chips, and the remaining chicken, beans, corn, and jalapenos.

Place into oven and cook for ten minutes. After ten minutes top the nachos with your parsley and cilantro. Cook for five more minutes.

After 15 minutes of cook time, remove your skillet and serve with toppings of your choice in separate bowls, or if you want to place toppings on to the nachos, do so right before serving. Bon appetit!