With this simple Spicy Pasta recipe, you can wow your family with dinner in mere minutes, and tingle their tastebuds while you do it. Italians call this an arrabbiata sauce, translated to angry sauce.
Many people when they make pasta with tomato sauce think that once the basic sauce is done they just have to add it to the pasta and the work is done.
But there is so much creativity and deliciousness that you are missing out on if this is how you are cooking up your pasta. There are so many things you can do to change up the flavor profile of your tomato sauce if you just know what to do.
Surely you have heard of the bolognese sauce, which adds flavorful beef to tomato sauce. You probably know this as your usual meat sauce. Then there is the slow cooked Napoletano sauce, cooked with meatballs, sausage, pork ribs or chops, and perhaps braciole. This would be that usual Sunday sauce that you may have heard of if you know any Italian families. There is also the amazingly delicious puttanesca sauce, which you can visit via the link to the right. What these examples show you is that you don't have to stop with the basic tomato sauce, there's lots more you can do with your tomato sauce than that.
This spicy sauce is another example. It is intended to pick up the heat of your tomato sauce, while not really changing the flavor profile. What I mean by that is that this recipe will taste like your normal tomato sauce, but then all of a sudden there is going to be some extra spicy kick to it. That's the way I like my heat. The food tastes the same, but then the heat is there to dazzle your taste buds. It's kind of a subtle way to add spice. I don't really like a recipe that just calls for you to add teaspoons of crushed red pepper to add the spice, because that much crushed red pepper will eventually start to change the flavor profile to a more smoky ashy kind of taste. Uh uh, that's not what I want. The trick is to let this sauce continue to taste like a normal tomato sauce, just with the spice enhancement.
The way I like to add heat is to use perhaps two or more spicy ingredients, so that my dish can get the heat I want but it doesn't get overloaded with the flavoring of any one of those ingredients. So here, I am using just a teaspoon of crushed red pepper and some minced habanero pepper.
I am not recommending how much habanero you should add. If you mince up a whole habanero, seeds and membranes and all, that is going to be a pretty hot sauce. You might want to experiment with preparing the habaneros, experiment with the amount of seeds and membranes to keep in the mince, because that is where the serious heat is. And then experiment by adding a half teaspoon at a time. For my particular version, I took out all of the seeds and trimmed a lot of the membranes, and put just about a whole minced habanero into the sauce. The heat was there, and it would definitely be too hot for my wife like that, but for me it was really a gentle spicy heat that was imparted to my sauce, which I thought was delicious. If you really want to turn up the spice, just mince up the entire habanero and add it all to the sauce. That is an angry sauce indeed!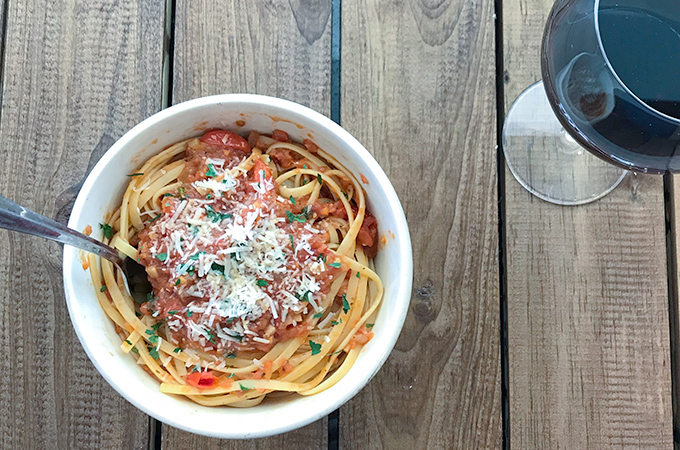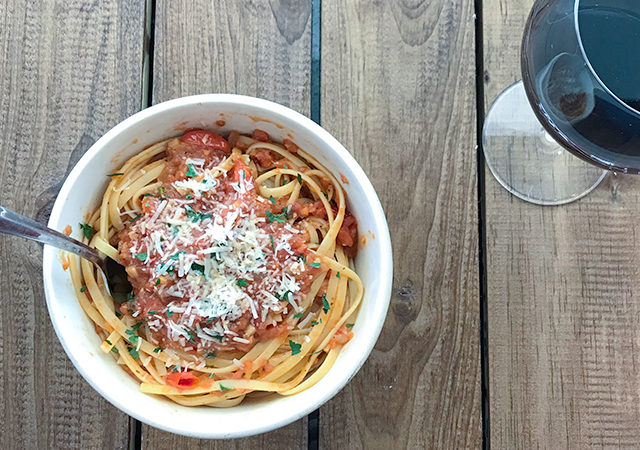 Spicy Pasta
A simple pasta dish offering up tons of fresh classic Italian flavors and spice.
Ingredients
1

lb

linguine or fetttuccine

reserve 1 cup pasta cooking water

2

tbsp

olive oil

1/2

cup

diced fresh sweet onion

2

cloves

garlic

minced

3

cups

basic tomato sauce

1

teaspoon

fresh chopped Italian flat parsley

1 1/2

teaspoon

chopped fresh oregano

1/2 to 1

or more finely chopped habanero pepper

skinned, to taste

1

teaspoon

crushed red pepper flakes

20-25

cherry tomatoes

halved

1

teaspoon

fresh chopped basil

1/4

cup

grated Parmigiano Reggiano
Instructions
Cook pasta according to package directions. Reserve 1 cup of pasta water.

Add oil to a large saute pan.Turn heat on medium, add onion and saute until just getting translucent. Add garlic and saute for five more minutes.

Add the tomato sauce, tomatoes, parsley, oregano, habanero pepper, and crushed red pepper.

Mix it well and cook while stirring occasionally, until the cherry tomatoes have begun to blister.

Now add the al dente pasta and cooking water, 1/4 cup at a time, and give it all a good mix until sauce coats the pasta (you won't need all the cooking water). Toss with the fresh basil and parmesan cheese and serve.