Can you say crowd-pleaser? And cook-pleaser? This Slow Cooker Queso Dip is both!! If you are having a party for the Super Bowl, you're welcome! Why would you buy that jar of queso dip at the store, when you can make this for your crowd and be a queso hero?! It's nothing too fancy, just a lot of great ingredients coming together to create something delicious! And once combined in the slow cooker, it goes virtually on autopilot for two hours, so you have plenty of down time to work on other things.
Careful though, this queso dip is addicting. Break it out for those special game days. And how convenient. The Super Bowl is today!!
You want to serve some convenience? Once this queso is melted together, just turn your slow cooker dial to warm, and you have the perfect serving bowl. Just serve a side of sturdy tortilla chips and enjoy the game!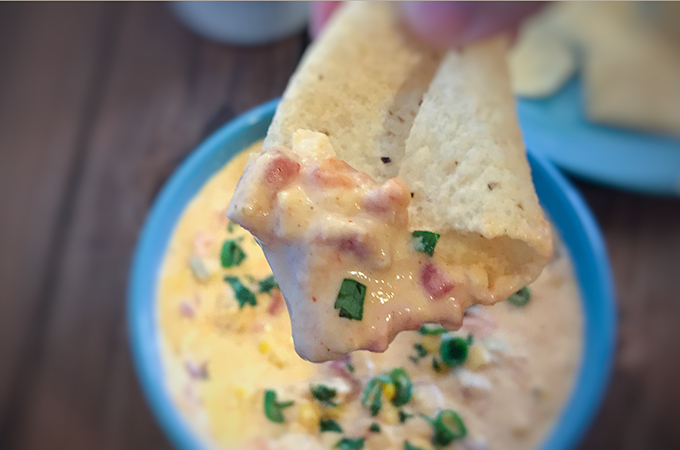 Some cooking tips:
1. You can make this queso with store-bought shredded cheddar and monterey jack. A mexican blend will work too. That will be fine and tasty. But it's a bit more fun abd just a bit more delicious in my opinion to buy blocks of cheese and shred them yourself. And you will learn about the cheeses and be able to experiment a bit as well.
2. There should be enough fat in the ingredients as recommended to prevent any separation of the cheese as it melts. But if you notice that your cheese is separating a bit, you can add heavy cream one half tablespoon at a time and give it a good stir. Your cheese sauce will go right back together again.
Here's how to make this savory and creamy Slow Cooker Queso Dip.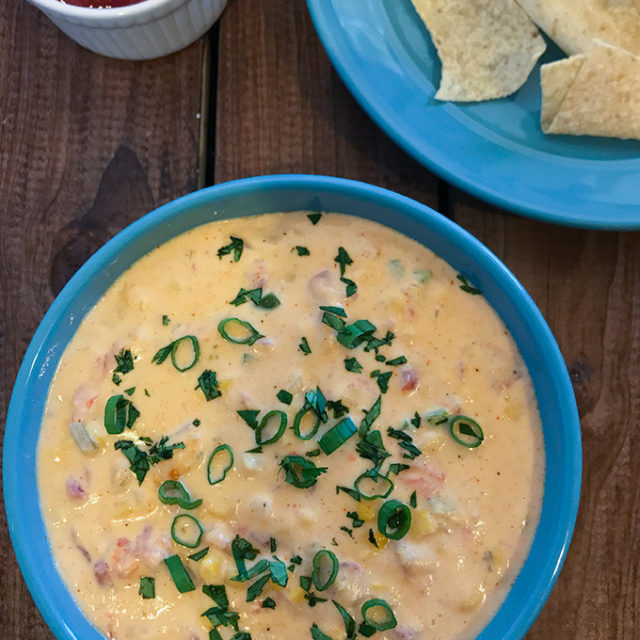 Slow Cooker Queso Dip
A delicious creamy, smoky and savory slow cooker queso dip for the Super Bowl.
Servings
:
10
Super Bowl party people
Ingredients
8

ounces

cream cheese

(non low-fat, cut into 1 inch cubes)

2

cups

shredded cheddar cheese

(non low-fat)

2

cups

shredded monterey jack cheese

(non low-fat)

1/2

cup

sour cream

(non low-fat)

2

cans

Rotel

(10 ounce cans)

1

jalapeno pepper (diced)

5

slices

fully cooked bacon (diced)

1

tsp

chili powder

1/2

tsp

garlic powder

1/2

tsp

cayenne pepper

1/2

large

sweet onion (diced)
Instructions
Turn slow cooker on to its low setting.

Chop cream cheese into one inch cubes. Place into slow cooker.

Add shredded cheeses to the slow cooker, along with sour cream, Rotel, jalapenos, onions, and bacon.

Once the queso has begun to melt together, add the chili powder, garlic powder, and cayenne pepper.


Let cook in the slow cooker for at least two hours, being sure to stir frequently (at least every ten minutes).

Once fully melted and warmed, set the slow cooker to the warm setting, and serve with tortilla chips.