I think Dean Martin knew from experience when he sang "When the stars make you drool, just like pasta fazool, that's amore." Can you beat a piping hot bowl of authentic pasta fazool, err, fagioli, on a cold and rainy winter day, or anytime for that matter? Not really!
My wife and I absolutely love pasta fazool! When we lived back on Long Island in New York, authentic pasta fazool was our go-to appetizer whenever we had a date night. The garlic, the broth, the salt, the beans, and the pasta just come together to provide a magnificent soup! The inventors of pasta fazool over there in Italy sure knew what they were doing.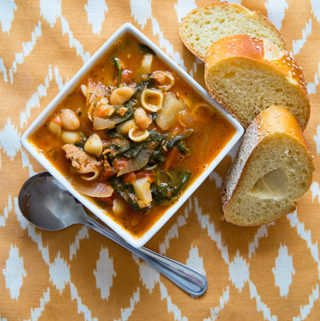 Okay, back to my wife and I's love of pasta fazool. Yes, most of our date nights were at Italian restaurants. Not places like the Olive Garden, but the sort've "hole in the wall" places that only the locals would know about. Who had the best pasta fazool? Villa Grazia in Centereach, Branchinelli's in Hauppauge, or Bamonte's in Brooklyn were the don't miss versions. Last I was at Bamonte's, it wasn't on the menu, but you can request it. In Greenville, the best I have had was at Da Vinci's Ristorante on Pleasantburg Drive, but quite frankly, it is not exactly widely available.
Now, to the recipe. This recipe is not the recipe for your Olive Garden version of pasta fazool. That's a horrible imposter. This is an authentic bean puree version of the dish. This relies more heavily on the cannellini beans to thicken up the broth, rather than tomato sauce. You have to do the bean puree to really get the taste right, in my opinion. Without it, it really just reverts to pasta and tomato sauce. But done just right, this recipe offers up the perfect creamy salty texture for its broth, and without the cream, yay!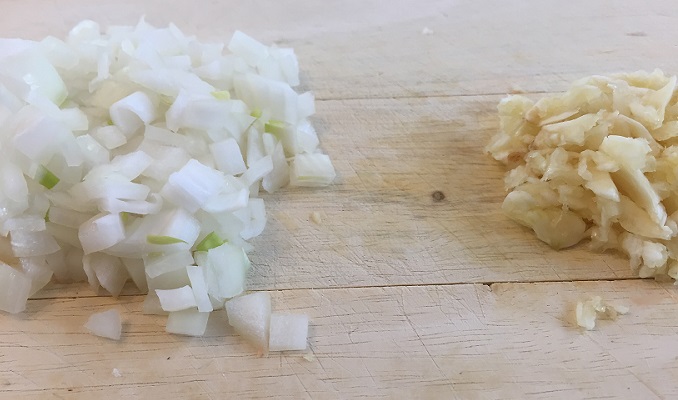 Like many Italian dishes, you start building the flavors with chopped onions and minced garlic sauteed in extra virgin olive oil. You really want those flavors imparted in your broth.
Make no mistake, the broth is the star of this soup. So don't load it up with pasta. This is a soup, not a pasta dish. Do it well and your broth will shine bright! Too much pasta will absorb the broth, and leave you with a dry soup, or really just a pasta dish. Be careful with the amount of pasta or it won't turn out quite right. Two cups of pasta is the maximum. Another trick: don't forget a few slices of crispy Italian bread for dipping. You will want to savor every last drop of the broth, some bread on the side will help you get it done.
So what does pasta fazool, err, fagioli, even mean? Pasta e Fagioli translates to pasta and beans. It is a traditional "peasant dish" made up of ingredients that were inexpensively available in Italy. The recipes can vary from town to town in Italy, some being thick and some being more watery. But in my opinion this version is the best. And ps, I am not picking on Olive Garden….certainly I've enjoyed quite a few meals there over the years.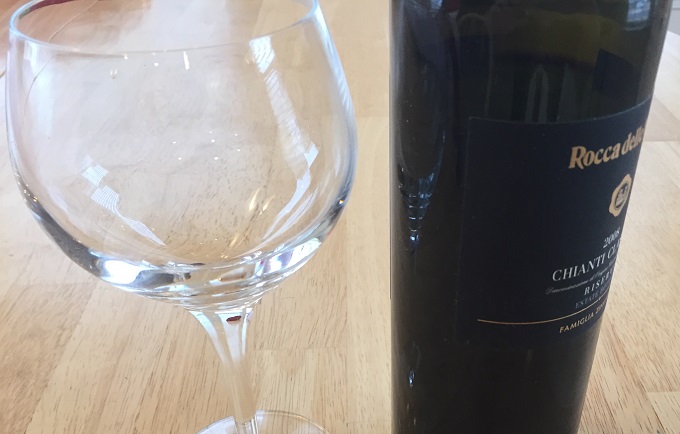 Have it with your favorite red wine.
Here is how you make the perfect bowl of Authentic Pasta Fazool, ummm, Fagioli: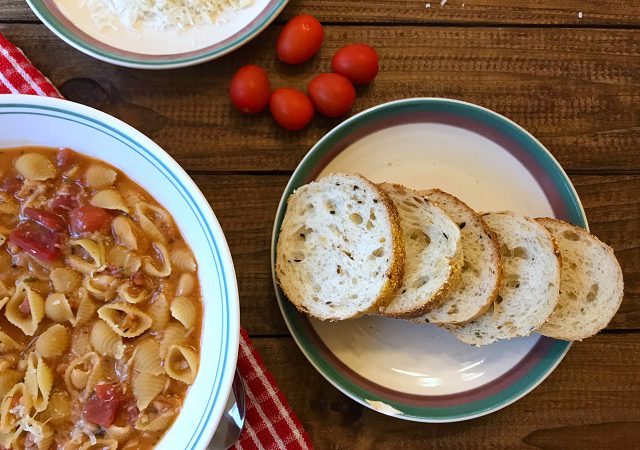 Authentic Pasta Fazool (Fagioli)
A delicious recipe for authentic Pasta Fazool, err, Fagioli. This recipe features a garlic bean puree as the main component of the broth, rather than tomato sauce.
Ingredients
3

cans cannellini beans

1/4

cup

olive oil

1/2

medium sweet onion

finely diced

6

cloves

fresh garlic

minced

4

ounces

diced pancetta or bacon

3

cups

beef broth

3

cups

chicken broth

1

cup

crushed tomatoes

1/2

cup

fresh sliced grape tomatoes

1/2

cup

fresh diced tomatoes

2

cups

small pasta; shells

elbows, or ditalini work best

1 1/2

tsp

kosher salt

2

tsp

chopped fresh savory

2

tsp

fresh chopped Italian flat parsley

2

tsp

fresh chopped basil leaves

crushed red pepper flakes

1

small Parmigiano Reggiano cheese rind

grated Parmigiano Reggiano cheese

to taste
Instructions
Drain one can of the beans, set aside.

In a large soup pot, warm the olive oil. Add the onion and pancetta (4 slices of bacon, diced, can substitute for the pancetta) and saute until onions are golden, about 5 minutes.

Add the garlic and saute an additional 5 minutes.

Transfer the sauteed ingredients to a blender or food processor and the add the other two cans of beans, including the liquid.

Puree the mixture until smooth.

Add the pureed mixture back to the soup pot, add the drained beans, the chicken and beef broth, salt, crushed tomatoes, sliced grape tomatoes, diced tomatoes, cheese rind, savory, parsley and basil. Bring to a slow boil.

Once gently boiling, add the pasta and cook until al dente, stir occasionally so nothing sticks together or to the pot.

Once the pasta is cooked, remove from heat. Taste and add more salt if needed.

Spoon into a soup bowl, top with red pepper flakes and the grated cheese, to taste.

Mangia!