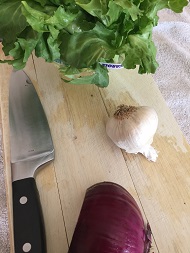 Ahh, the ole Spicy Sausage and Bean Soup with Escarole recipe was perfect on this chilly snowy Saturday. Last night and into this morning saw a minor snow storm (being from the North this was but a minor dusting) hitting our area. Knowing it was coming, last night I went to the grocery to get the ingredients for this rather simple Italian soup and enough food for a few days, just in case. Every now and then a snow storm hits in the South that really does have a major impact, but this was not that, at least not in my neck of the woods.
This Spicy Sausage and Bean Soup with Escarole recipe results in a perfect mix of salty and spice. It wll warm you up on a cold wintry day. Jaime and I enjoyed it today. Jaime is not a big fan of spicy food, so I dialed it back a bit using a little less crushed red pepper flakes, but you can certainly go pretty crazy with the heat on this one by adding more. The hot and spicy broth combined with the hot sausage slices will definitely get your taste buds firing with savory goodness. And don't forget the crispy Italian bread for the mandatory broth dunking.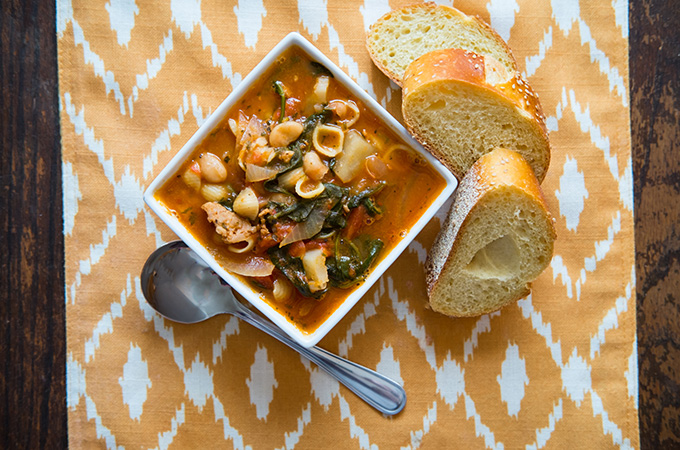 Here it is, Spicy Sausage and Bean Soup with Escarole. Enjoy!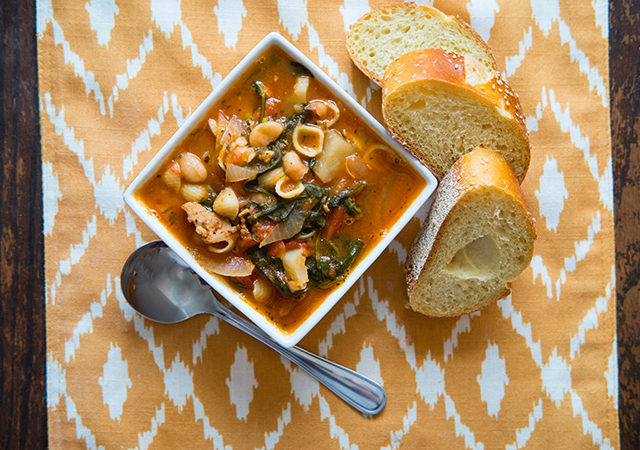 Spicy Sausage and Bean Soup with Escarole
A spicy sausage and bean soup with escarole and beef broth, perfect for the cold snowy winter day.
Ingredients
1/2

medium red onion

(diced)

6

cloves

garlic

(minced)

1

teaspoon

crushed red pepper

1/2

cup

olive oil

1

head escarole

(washed well and chopped)

1

can cannelini or northern white beans

2

cups

beef stock

3

links hot Italian sausage

1 1/2

cups

small pasta

(shells, bow ties, or ditalini)
Instructions
Begin cooking the pasta in a saucepan until al dente.

In a medium saucepan, saute the onions in the olive oil for five minutes. Add the garlic and crushed red pepper and saute for five more minutes.

At same time, blanch the chopped escarole in boiling salted water until soft. Drain the water and season the escarole with a pinch of kosher salt.

Mix the escarole into the sauteed onions and garlic. Add the beans and the beef stock.

Broil the three sausage links until seared on the outside. Chop into slices and add the slices to the soup.

Bring to a slow boil, turn down the heat to medium, and cook for an additional 15 minutes.

Add the al dente cooked pasta and gently simmer for five more minutes.

Serve with crispy Italian bread for dunking into the broth.