Mozzarella en Carrozza with Marinara Sauce is one of my favorite special snack foods. Perhaps it will make a great snack food tonight for the Golden Globes? I don't make it too often because it's a bit of work and it is one of those guilty pleasures to enjoy in self-imposed moderation. And admittedly, it can be easier to just cook up some ready-made mozzarella sticks. But you know they are not nearly as good.
My first intro to Mozzarella en Carrozza was back when I was about 20 and still in college. I recall going out for dinner over the summer with a bunch of friends in the Little Italy section of Manhattan. We tried one of the many Italian restaurants on Mulberry Street. Of course, I was looking for some mozzarella sticks as an appetizer, when instead I found this thing called mozzarella en carrozza with marinara sauce. Not having mozzarella sticks, I ordered this wondering what it would be (this was 20 years ago … didn't have a smart phone). Needless to say, it was delicious. And I wanted to have a recipe of my own to be able to make it again when I wanted it. Living in South Carolina, it's not surprising we don't get to Mulberry Street very often. Maybe this summer?!
This mozzarella en carrozza recipe will give you the great crunchy seasoned bread crumb batter on the outside with the warm melt-y cheese on the inside. Dipped with a savory marinara sauce, this is really one of the ultimate Italian snack foods. This recipe takes a bit of practice to perfect, but I think it is well worth the effort. Use a thermometer to measure the temperature of your oil. Too high and you will burn the breading, too low and it will be soggy, you want the temperature to be just right, at least 350 degrees and no higher than 375 degrees. I like to cut the sandwiches into triangles, which gives you three points for dipping into the marinara.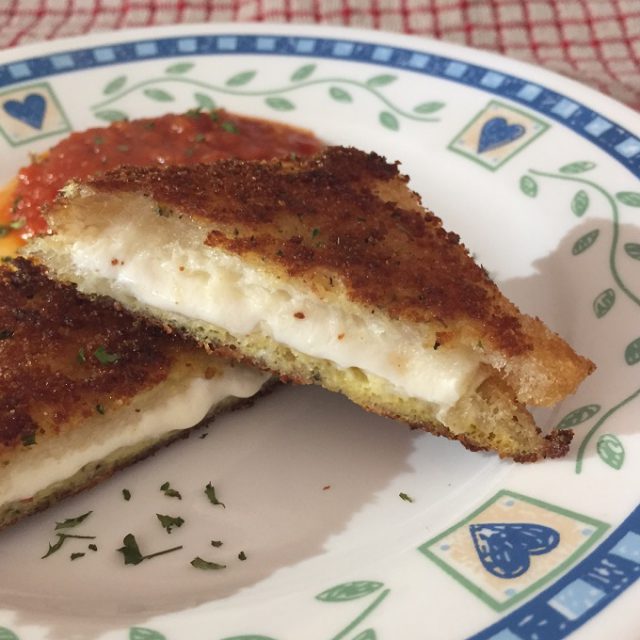 Mozzarella en Carrozza With Marinara Sauce
A delicious crunchy melty-cheesy highly guilty snack food.
Cuisine:
Italian American
Ingredients
4

slices

crispy Italian bread

(crusts removed)

4

slices

fresh mozzarella

(large enough to just about cover two slices of the bread)

1/2

cup

Italian-style bread crumbs

1/2

tablespoon

garlic salt

1/2

teaspoon

fresh basil

(chopped)

1/2

teaspoon

fresh parsley

(chopped)

1

egg

Salt and pepper

1

cup

marinara sauce

(for dipping)

2

cups

vegetable oil
Instructions
Mix the egg with the basil and parsley. Season with salt and pepper.

Sift the garlic salt into the bread crumbs.

Lay out two slices of the bread. Remove the crusts and cut into a rectangle or square. Place two slices of mozzarella on each slice of bread. Cover with the remaining matching slices of bread. Press down to compact. Try to get the edges of the bread to stay together, creating an enclosed mozzarella sandwich.

Now, dredge the sandwiches in the egg mixture and then into the bread crumbs. Be sure to coat the bread entirely with the egg and bread crumbs. Let sit 15 minutes.

Add the oil to a medium skillet on medium heat. When the oil is hot, about 375 degrees, place the two sandwiches into the oil and cook until golden brown on one side, then flip, and cook until golden brown on the other side. The sandwiches are best when crisp on the outside and the mozzarella has just begun to melt on the inside.

When done cooking, remove from the oil and place on a cooling rack for one minute. Then cut each sandwich into 2 or 3 triangles.

Serve while hot with a bowl of the marinara sauce for dipping.