Everybody knows that when you are taking in a game at the ballpark, a sausage, peppers and onions sandwich is the way to go! The spicy fennel taste of the sausage with the pungent peppers and sweetness from the onion on a delicious yeasty roll is a combination as easy to enjoy as cookies and ice cream.
I have made this recipe a few times over the last few months, and decided to finally share it on the blog. This recipe makes a lot of sausage and peppers so you may have it on hand for a few days. Don't worry, that is a great thing! Luckily sausage and peppers is so versatile it can be enjoyed a number of different ways. I ended up eating these on the first few days on a hoagie roll (the sauce is so good when it has just barely soaked into the roll!), one night plain on a plate for dinner, another night I improvised and mixed with some pasta with a generous helping of the wine sauce, and one morning I actually cut up a few sausages and peppers into smaller pieces and put them on top of some eggs for breakfast!!! Now that's what I call versatility!!!
Needless to say the sausage and peppers were delicious and a great way to create a number of different meals for the week. With that kind of versatility and great taste, it is no wonder that sausage and peppers is such a classic combination.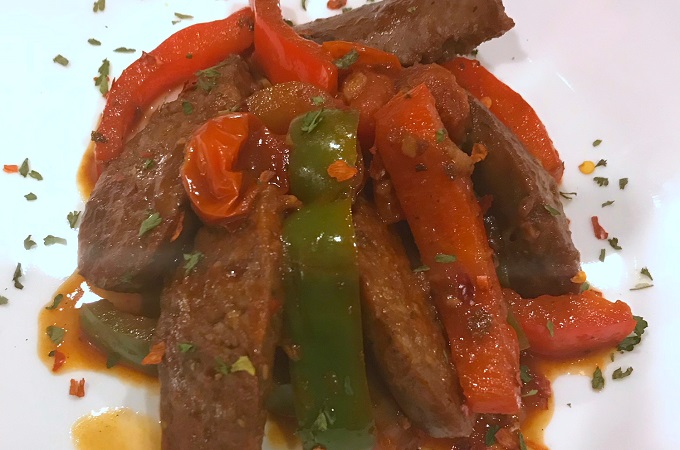 For this recipe, I roasted the sausages on an open rack in the center of the 350 degree oven. At 30 minutes, the time seemed perfect but keep an eye on them and rotate the rack a few times so the sausages heat evenly. A few tricks to check if they are done: sometimes while the sausages cook you can see some liquid pooling just underneath the casings, usually when I see this I know I want to cook a little bit longer, although sometimes I will pierce the casing to get a look at the color of the liquid, if it's clear it's done, if it's pink keep cooking. A meat thermometer will give you the best indication that the sausages are done. Place the thermometer in the center of the thickest part of the sausage. A temperature of 170 degrees F indicates it is done, though you can stop a few degrees before that knowing we will be searing the sausages in the skillet next.
The sausages came out pretty perfect for me, and were well cooked yet deliciously tender. In the directions I have you sear the sausages after cooking in the oven…this is not necessarily intended to cook the sausages through, this just gives you a little tasty char on the outside of the sausages and puts some delicious browned bits into the skillet before deglazing with the red wine…I like to do this but it is theoretically optional.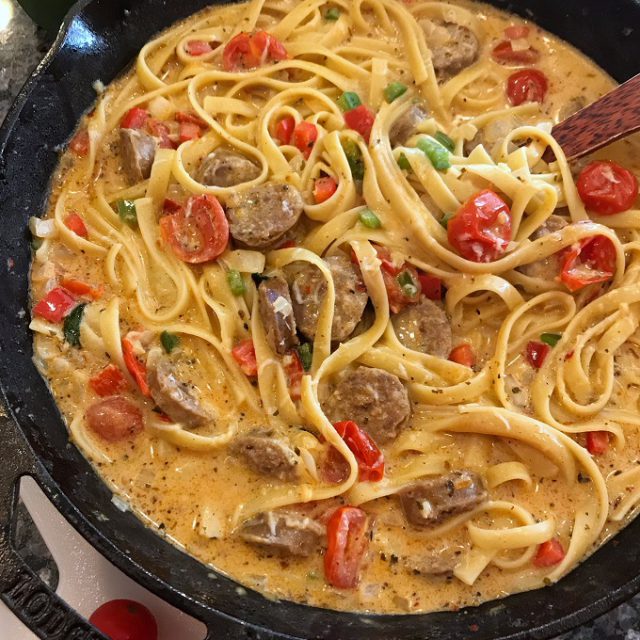 A word about peppers. Red peppers are easy to love. You could actually just make this recipe with red peppers. But I wanted some more color, so I used green peppers as well. A problem with green peppers is they can ruin your recipe with their bitterness. A good way to prep the green peppers is to slice them up into strips, making sure that you do a very thorough job getting rid of the seeds and the strips of white (the "ribs") in the middle (these have a bitter taste). Then give them a nice soak with water, pat them dry, put them in a pan with a few pinches of kosher salt and a splash of olive or grape seed oil, and roast them for ten minutes in the center of a 300 degree oven.
Okay, so I have gushed and gushed about all you can do with the sausage and peppers. So here is the photographic proof! Go to my Instagram to see my sausage and peppers on a hoagie roll and cut up into a delicious egg omelet! And scroll down a bit more to find out how to make this delicious treat!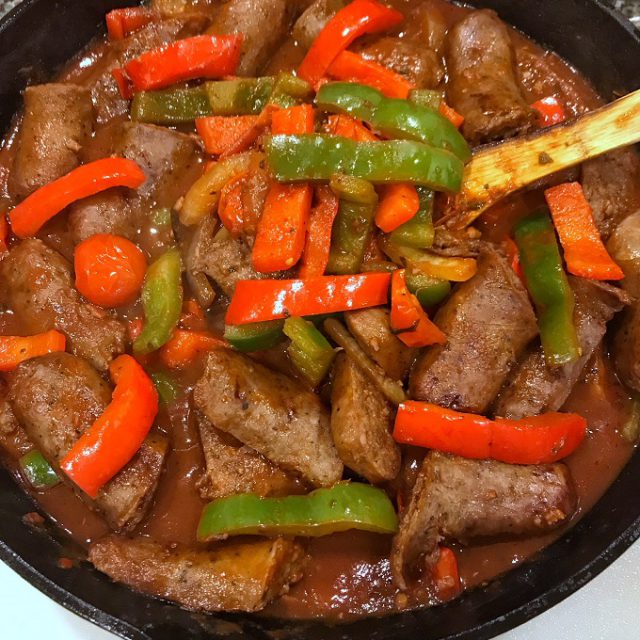 Sausage, Peppers and Onions in A Red Wine Sauce
Here we go, learn how to get this classic ballpark snack in your own kitchen!
Cuisine:
Italian American
Ingredients
3

lbs

fresh Italian pork fennel sausages

(in cases, spicy or sweet (pick your pleasure), 3 lbs is about 10-12 regular sized links, you can use turkey sausages if that is your thing :))

3

red bell peppers

(cut into strips, rinsed and optionally roasted)

2

green bell peppers

(cut into strips, rinsed and optionally roasted)

1

cup

yellow sweet onion

(sliced into half moons)

1

cup

sliced cherry tomatoes

(optionally mixed with the chopped basil)

4-5

large basil leaves

(chopped)

4

tablespoons

avocado or grape seed oil

(for high temperature searing the sausages)

1

small can tomato paste

3-4

cloves

garlic

(minced)

1

cup

red wine

(a dry cabernet sauvignon or merlot is PERFECT)

1

teaspoon

oregano

1

teaspoon

black pepper

pinch

of kosher salt

1/2 - 1

teaspoon

crushed red pepper

(optional)

hoagie rolls or Italian bread
Instructions
Prep your tomatoes, peppers, and onion. As a side note, I love to chop my tomatoes and basil and then mix them together in a bowl until they are added to the recipe. I just love the smell of sliced tomatoes, with the freshly released tomato juices, and basil together, so I pretty much always do this when a recipe calls for sliced tomatoes.

Roast the sausages in a 350 degree preheated oven for 30 minutes. I roasted the sausages on an open rack placed in the center of the oven.

Remove the sausages and sear for about a minute on each side in a hot skillet coated with the avocado or grape seed oil. Set aside to rest while you continue.

Turn down the heat on the skillet to low-medium. Add the onions to the skillet and sautee for 5 minutes. Don't let the onions burn so keep them moving if the skillet is too hot at first.

Add the garlic and continue to sautee for a few more minutes, until the onions just begin to brown.

Add the red wine to the skillet to deglaze the pan. Allow to reduce to about half and add the tomato paste. Mix the tomato paste well into the wine reduction.

Add the tomatoes and peppers, basil (if not already mixed with the tomatoes), oregano, black pepper, salt, and crushed red pepper. Simmer for about ten minutes while stirring gently.

When the peppers have cooked through but still remain crunchy, add back the sausages, sliced into smaller pieces, I quartered mine by slicing in half lengthwise and cutting each half in half again. Simmer over low heat for 15 to 20 minutes, or until the sauce has sufficiently thickened. The sauce should just be close to boiling, but not quite.

Once finished, put 3 or 4 sausage pieces on a roll, top with peppers, onions and tomatoes, and enjoy.