This is a fun and simple recipe for some super fresh and delicious Pappa al Pomodoro soup. To me, October through February is the prime soup season! And this soup will not disappoint!! You don't generally see this soup on a restaurant menu, but believe you me, this is about as classic Italian soup as you can find. Pappa al Pomodoro translates into English a tomato mush, and that is exactly what this soup is – a bread and tomato mush.
What's really fun about cooking, particularly cooking traditional recipes passed down over time, is to learn about why and how a particular recipe came to be. In Italy, bread and tomatoes were in abundance in most households. Anybody who keeps bread around in their homes knows that bread sure doesn't last forever. Eat it within a couple of days or it's going to get hard as a rock. Tomatoes don't stick around a long time either. As a result, many Italian recipes came into being as a way to be able to consume old bread and use up all of those tomatoes.
The great thing about this recipe is if you use some nice fresh Roma plum tomatoes, and combine them with fresh chopped basil leaves, you are going to turn that hard old bread into a super fresh tasting dish! It almost feels like magic how these ingredients combine to make something so fresh and delicious!
A few tips about the bread in this recipe:
I like to use a thicker Italian-style bread, and cut it so that each cube of bread has a bit of the crust on it. I have found that works best. If you have pieces of bread that don't have any crust, I feel it can get a bit too mushy. Pappa al Pomodoro is supposed to be a mish-mash mush of tomatoes and bread, but I still think there is a such thing as too mushy! You want the bread to hold up just a bit to the tomatoes so that there is a bit of structure there when you bite it, but obviously the bread needs to be softened by the tomatoes and their juices. Be careful in this regard, day or two old bread is required and you should toast it as well. It is disappointing when your Pappa al Pomodoro is ruined by soggy bread.
Now, how much bread to add is a personal preference. The two cups of bread recommended here is really about the maximum that this amount of tomatoes will be able to incorporate. So this particular recipe will result in a dry light red soup. If you want there to be a bit of tomato broth left, consider adding a little less bread, perhaps somewhere between 1 and 1 1/2 cups instead. The soup will be wetter and redder. But the preference is of course personal, feel free to experiment.
So here you go, delicious Pappa al Pomodoro!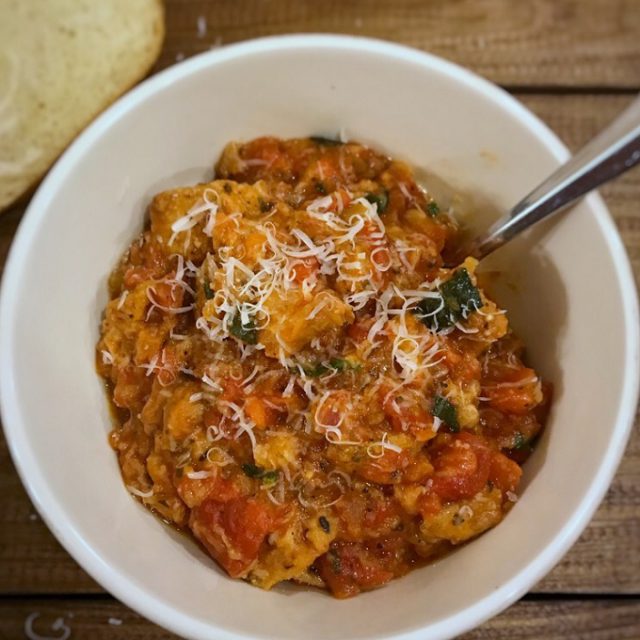 Pappa Al Pomodoro Soup
The good folks of Italy are masters when it came to recipes designed to use up stale bread. So from them to you, delicious pappa al pomodoro soup!
Ingredients
2

tablespoons

extra virgin olive oil for the sofrito

1/4

cup

extra virgin olive oil for toasting the bread

1

yellow or white onion

(chunked)

1

tablespoon

chopped fresh flat Italian parsley

4-5

garlic cloves

(minced)

1

large carrot

(cut into even sized slices)

1

large celery stalk

(cut into even sized slices)

28

ounces

diced Roma plum tomatoes

2

cups

day

(or two old Italian bread, cut into even sized cubes)

5-6

large basil leaves

(roughly chopped)

1

teaspoon

oregano

salt and pepper to taste

Parmigiano-Reggiano

(to taste)
Instructions
Place the bread cubes in a single layer on a baking pan and drizzle with about a quarter cup of olive oil. Toast in a 350 degree oven for about ten minutes.

While the bread is toasting, in a large saucepan, warm up 2 tablespoons olive oil over medium heat. When sufficiently warmed, add the onion chunks and sautee for about five minutes, Then add the garlic cloves, parsley, carrots and celery. Let cook for another 10 minutes. Enjoy the aromas filling your kitchen! We are going with a basic Italian soffrito here, except once the vegetables and garlic are cooked, we are going to remove them. This allows the flavors to be gently imparted into the soup, without them taking over completely.

Once the vegetables are cooked through and removed (leaving all juices in the saucepan), add the diced tomatoes and oregano, and allow to come to a slow boil, about ten minutes. Once boiling, turn down the heat to a simmer.

Next, add the chopped basil and bread. Give it all a good mix so the bread is fully incorporated into the tomatoes. Continue to simmer the soup for about 20 minutes and add a pinch of salt and pepper to taste.

Serve while warm with some Parmigiano-Reggiano on the side.