Cannolis are probably my favorite dessert. Here in the South you don't find cannolis in a lot of places, so it is pretty exciting when you can find them. And if you love cannolis it is fun to try to learn how to make them. Particularly when the holidays are upon us, I am all about the cannolis. What is a holiday dinner with no dessert, and no cannolis!?
It just doesn't get much better than the delicious crusty fried pastry shell filled with sweet and creamy ricotta cheese filling with hints of orange, vanilla, and cinnamon. The texture is just so amazing when you bite through that hard shell and it just all collapses into the creamy filling and you get that perfect bite of crunch and cream.
Well here is another way to enjoy cannoli. So decadent and sinful and easy to whip up an amazing batch of cannoli cream and put it into a delicious pie crust for a different take on the cannoli. The cannoli cream is so good it can seriously be devoured with just a bowl and a spoon. I'd actually be happy with that! But put the spoon down long enough and you can put it all together into an amazing and memorable pie.
I love my cannolis to have special add ins, such as semi-sweet chocolate chips, salted caramel or whipped cream. So here I decided to put all on the pie to make an overwhelmingly delicious and sweet dessert. You can make the crust yourself, with the recipe given here, or go the easy route and just buy the pie crust at the grocery. And this recipe is no bake, it's so simple and easy peasy to be the hit of your holiday celebration. Who doesn't love the ease of no-bake? Dig in, you won't be disappointed!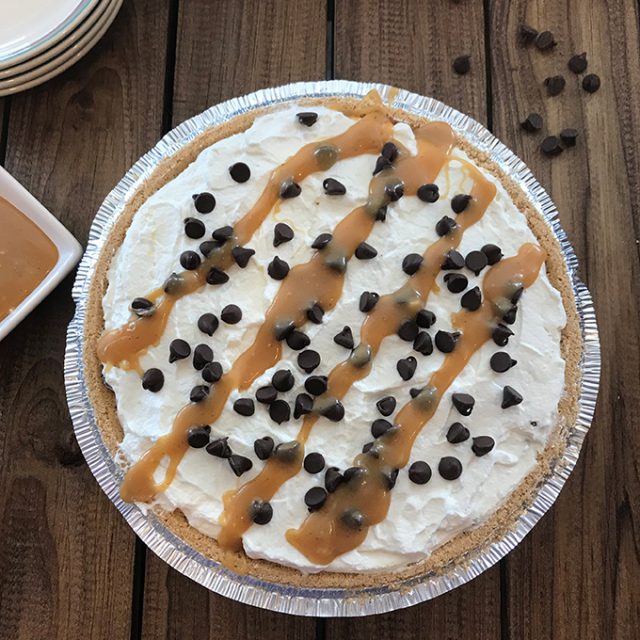 Creamy Cannoli Pie with Salted Caramel
Delicious and outlandish creamy dreamy cannoli pie with chocolate chips and salted caramel.
Ingredients
For the graham cracker pie crust
1 1/2

cups

graham cracker crumbs

5

tablespoons

butter

4

tablespoons

sugar

1

tablespoon

mascarpone cheese

Or just buy a pie crust at the store.
For the cannoli cream
8

ounces

cream cheese

3/4

cup

ricotta cheese

(whole not skim)

1/4

cup

mascarpone cheese

2

teaspoons

pure vanilla extract

1 1/2

cups

heavy cream

3/4

cup

confectioner's sugar

1/4

teaspoon

freshly ground cinnamon

1

teaspoon

orange zest

1

cup

chocolate chips
For the whipped cream
1/2

cup

heavy cream

2

tablespoons

confectioner's sugar
For the salted caramel
1

cup

granulated sugar

6

tablespoons

salted butter

(cut into small cubes)

1/2

cup

heavy cream

1

teaspoon

sea salt
Instructions
Graham cracker pie crust
Mix all ingredients together in a large bowl.

Use a hand held mixer to beat the ingredients together. Once the ingredients are well combined, place into a buttered pie pan. Press the mixture into the bottom and sides for the desired thickness.

Bake in a 350 degree oven for 30 minutes. Remove and allow to cool before filling.
Cannoli cream
Soften the cream cheese, cut into several small pieces and add to a large bowl. Beat with a hand mixer until smooth.

Add the mascarpone, vanilla, heavy cream, ricotta, confectioner's sugar, cinnamon, and orange zest. Continue to beat with the mixer until well mixed and uniform.

Fold one half of the chocolate chips into the batter, reserve the rest.
Whipped cream
Combine the heavy cream and sugar in a large bowl.

Use a hand held mixer to beat the cream and sugar until the desired consistency is attained, stiff peaks should form after sufficient beating.
Salted caramel
Gently begin heating the sugar in a large sauce pan over low to medium heat. Stir occasionally so the sugar heats evenly. Keep stirring when the sugar begins to clump. The sugar will eventually melt into an amber brown liquid. Be gentle, don't burn the sugar!

Now stir in the butter. Using a whisk keep the sugar and butter stirring until they combine. The butter should melt but not obviously separate.

Now, the sort of hard part. You need to add the cream. Because the cream is cooler than the sugar and butter, it will have several effects on the mix. First, it might make the mixture splatter and bubble up. Second, it might make the mixture harden without the cream being incorporated. That's not what you want obviously. The caramel should be pourable when finished. If it has hardened without the cream being incorporated, try again. This takes some practice to get right, so don't be discouraged if it doesn't work on your first attempts.
Put it all together:
Pour the cannoli cream into the pie crust. Smooth out the cream as much as possible. Let it chill for a few hours and then add a layer of the whipped cream over the top. Sprinkle the remaining chocolate chips and drizzle on the caramel.

Enjoy!