This recipe for Spicy Sausage Baked Ziti will leave you speechless. And with hot lips. And your family will love you. More. Also known as the "Hot Ziti", there is a terrific little Italian restaurant in Greenville, South Carolina that serves a great Hot Ziti dish.
Giovanni's Italian Restaurant, located at 1178 Woodruff Rd, Ste 4, Greenville, SC 29607, is a small but very charming and very well done "mom and pop" shop front Italian restaurant that gets as close to the New York "mom and pop" Italian restaurant as you can get without actually being in New York. It is small, so you may have to wait a bit for a table at dinner time, but I'd say it is worth it.
If you go to Giovanni's, their Spicy Sausage Baked Ziti would be my recommendation hands down. If you want to try it at home, here is how I would make it. Your taste buds will love you if you treat them to this dish. Again, you have your perfectly cooked ziti pasta with the spicy sausage married to a delicious spicy red sauce, and then the gobs and gobs of melt-y ricotta and mozzarella cheese goodness. You're welcome for sharing this recipe.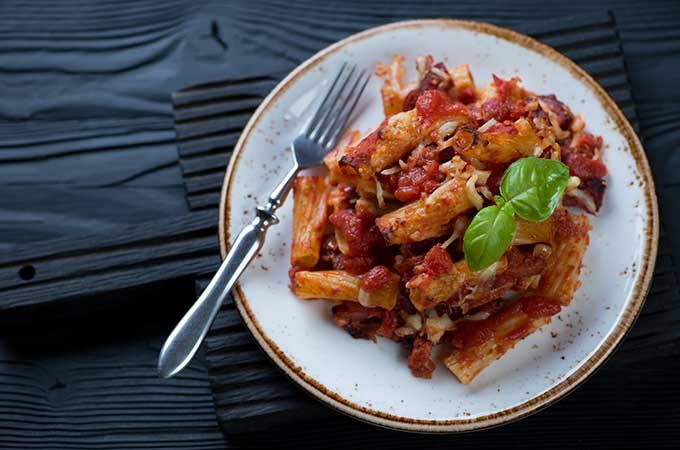 Be sure to be careful with how many habaneros you add to the dish. Habaneros are much hotter than jalepenos. My suggestion is to err on the side of not putting enough at first, as you can always add some additional seeds or flesh later if you feel the sauce needs more heat. Also with the habaneros you should take off the skin before adding to the recipe. You can do this by quick-roasting the peppers, letting them cool off in a sealed container, and then peeling. You should wear gloves while cutting these hot little peppers. Getting the capsaicin oil on your skin can be uncomfortable, not to mention accidentally rubbing it into your eyes. So be careful while handling these peppers.
This is how I do the Spicy Sausage Baked Ziti dish: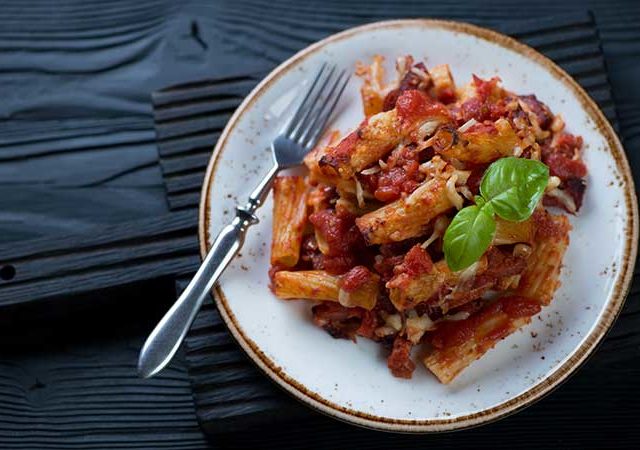 Spicy Sausage Baked Ziti
A spicy and flavorful baked ziti with hot sausage and habanero marinara.
Ingredients
For the Sausage and Marinara Sauce:
6

cups

whole peeled plum tomatoes

(2 cans)

½

pound

spicy Italian sausage

(no casings, just the ground meat inside)

6

tablespoons

butter

1

medium sweet onion

(diced)

1

can

tomato paste

(15 ounces)

5

cloves

garlic

(minced)

1

teaspoon

sea salt

½

teaspoon

black pepper

1/2

cup

chopped basil leaves

½

cup

Italian red wine

(Chianti works!)

4

habanero peppers

(finely chopped)

crushed red paper flakes
For the ricotta cheese mixture:
2

cups

ricotta cheese

1/4

cup

grated Pecorino-Romano cheese

1

egg

1/2

tablespoon

garlic powder

1/2

tablespoon

fresh chopped parsley

1/2

teaspoon

fresh oregano

1/4

teaspoon

salt

1/2

teaspoon

ground black pepper

2

cups

shredded mozzarella cheese

1 1/2

lbs

ziti pasta
For topping the dish:
2

cups

shredded mozzarella cheese for topping the dish

Parsley for garnish

Parmigiano-Reggiano cheese to taste
Instructions
Sausage and Marinara Sauce:
In a large sauce pot, saute ¾ of the onions in the butter for five minutes.

Add the garlic and tomato paste. Saute five more minutes.

Add the tomatoes. After 5-10 minutes, chop the tomatoes in the pot. Simmer for 30 minutes total. Be sure to keep the mixture mixed so it doesn't stick to the pot or to itself.

While the tomatoes are simmering, in a separate pan saute the remaining onions in the remaining butter for five minutes and then add the sausage and about half of your chopped habanero. Once the sausage has browned sufficiently, add the red wine and deglaze the pan.

After 30 minutes, pass the sautéed tomato mixture through a food mill or puree in a blender.

Move the pureed mixture back to the sauce pot. Add the cooked sausage and 1 teaspoon of the basil. Add the basil and simmer on low heat for 20 more minutes.

Test the heat of the sauce. It should be there, but be not quite overwhelming. If you want it a bit spicier, add some more of your chopped habanero and some red pepper.

Correct the salt and pepper seasoning.
Ricotta cheese mixture:
Mix the ricotta cheese in a large mixing bowl with the egg, the Pecorino-Romano, the garlic powder, parsley, oregano, salt, and pepper.

Mix well by hand to get a good uniform distribution throughout the cheese.
Pasta:
Boil the pasta in salted water until just before al dente.

Put the pasta back into the pot over low heat.

Add the reserved pasta water to uniformly coat the pasta.

Dress the pasta with the sauce and sausage.

Stir the pasta well, allowing each noodle to be coated with the sauce and the sausage to evenly disburse.

Turn out the pasta into a large baking pan. Add the ricotta mixture to the pasta and mix it well. Top the pasta with the remaining 2 cups of mozzarella and cover with foil.

Bake at 350 degrees for 30 minutes. Remove the foil. Bake for another 15 minutes or until the cheese has become nice and melty.

Garnish with some parsley and Pecorino Romano cheese and serve.