This is my recipe for a warm bread pudding with a whiskey sauce. It is great for getting rid of some of your bread that is getting ready to go stale. I like to make it with a loaf or two of french baguette. Just had it for one of our Christmas dinner desserts. I was glad to see a bunch of empty plates.
Back in my college days I worked in a bit of an upscale restaurant in Port Jefferson, New York called Danfords. The hotel and marina is still there as Danfords, but now the attached restaurant is called Wave Seafood Kitchen. Anyway, back when I worked there they had a great warm bread pudding with a whiskey sauce that I used to love to get. It doesn't seem to be on their menu anymore though. It was pretty good with what I think I remember to be a whiskey or bourbon sauce.
A few tips when making this, be absolutely sure to get all of the bread cubes saturated with the sauce before you begin baking it. And once the bread is fully saturated, spoon into the muffin pan and use a sturdy spatula to pat the bread cubes down to make them nice and comfy together. Also, I find that by cutting the bread to a uniform size, as well as keeping the cubes on the smaller side, the bread pudding will pack together better.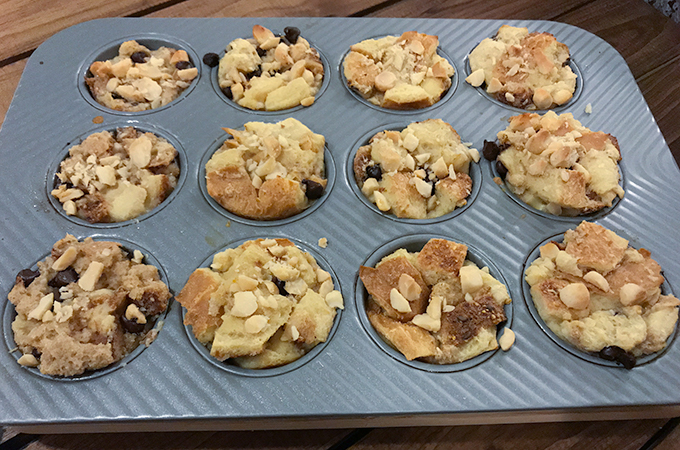 Without further delay, here is my recipe for a warm bread pudding with a whiskey sauce.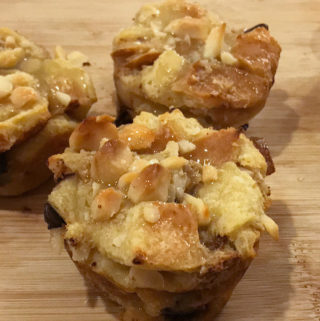 Bread Pudding With A Whiskey Sauce
A delicious bread pudding dessert with macadamia nuts and scrumptious semi sweet chocolate chips in a whiskey butter sauce.
Servings
:
12
bread pudding cakes
Ingredients
For the bread pudding:
2

eggs

(beaten)

2

tablespoons

butter

(melted)

2

tablespoons

vanilla extract

2

cups

milk

1/3

cup

white sugar

10

ounces

of french bread

(cut into 1 inch cubes, 4 cups total)

1/2

cup

chopped macadamia nuts

1/2

cup

semi sweet chocolate chips or white chocolate morsels
For the whiskey sauce:
1/2

cup

white sugar

1/2

cup

butter

1/2

cup

heavy cream

1/4

cup

whiskey or bourbon

(I used some Jim Beam bourbon I recently received as a gift.)
Instructions
Preheat your oven to 330 degrees. Lightly grease a muffin pan (butter works just fine). The ingredients here will fill out a 4 by 3 muffin pan making 12 separate bread pudding cakes three inches wide and about 2 inches high.
For the bread pudding:
In a large mixing bowl, stir together the eggs, gently melted butter, vanilla extract, and milk. Slowly add the 1/3 cup white sugar, mixing well until the sugar has dissolved uniformly.

Next add about 1/2 of the macadamia nuts and all of the chocolate chips.

Put the bread cubes in a separate large bowl, and cover uniformly with the eggs, butter and milk mixture. Best technique is to pour about half of the mixture onto the bread cubes, give it a good mix with a large spoon, and continue adding the mixture until it has been taken up completely by the bread cubes. You want the bread cubes to be uniformly and consistently saturated.

Spoon the complete mixture into each of the cups of the muffin pan. Fill each of the twelve cups until about flush with the top. It should be moderately well packed together. The pudding will rise a bit more when baked. Top with the remaining macadamia nuts.

Bake for 40 minutes.
For the whiskey sauce:
While the bread pudding is baking, gently melt 1/2 cup of butter in a small sauce pan over low-medium heat. Once the butter is melted, add the cream and 1/2 cup sugar and mix well.

Finally add the whiskey and continue mixing over low-medium heat, until the mixture comes to a slow boil. Remove to low heat and keep the mixture well mixed.

After the bread pudding has baked for forty minutes, take out of the oven and sprinkle a table spoon full of the whiskey sauce over each bread pudding. Put back in the oven for an additional 20 minutes of baking time.

When finished, each bread pudding cup will come out of the muffin pan with ease. Serve with the remaining whiskey sauce on the side and enjoy this decadent and delicious treat!