So why CrockPot Barbecue Chicken Dip? Well, one of my favorite recent recipes has been my Queso Dip, which I made for the Super Bowl, and which was so delicious it didn't actually make it until game time. It was loved by everybody, and that just makes me happy, despite having no queso for the, you know, actual game.
As delicious as that was, this Crock Pot Barbecue Chicken Dip actually takes it up a notch. Again, as I explained in my Barbecue Chicken Nachos, we are using smoked chicken in our barbecue chicken recipe. Need to deliver that smoky flavor somehow. And I added one of my new favorite types of barbecue sauce – an eastern Carolina vinegar sauce to deliver some tang. Lastly, we added some bits of bacon to bring some saltiness. I used white cheddar and monterey jack for this queso, combined with the barbecue sauce and Rotel it develops into a more of a off white yellow-ish colored queso. Throw it all into the CrockPot for two hours and out comes some gooey smoky tangy deliciousness! DaaaaaYUM!!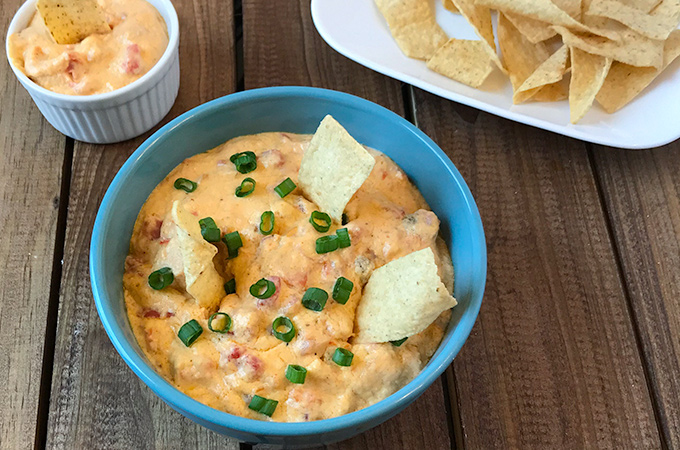 This CrockPot Barbecue Chicken Dip is so simple and delicious it is a must make snack for any game day gathering.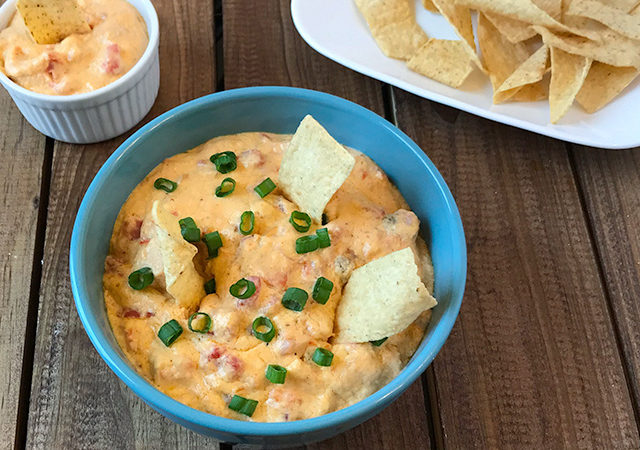 CrockPot Barbecue Chicken Dip
A creamy, smoky and tangy barbecue chicken queso dip that will be a hit at any party.
Servings
:
10
party people
Ingredients
2

cups

smoked chicken

(1/2 - 1 inch dice)

5

slices

fully cooked bacon

(diced)

8

ounces

cream cheese

(non low-fat, cut into 1 inch cubes)

2

cups

shredded white cheddar cheese

(non low-fat)

2

cups

shredded white monterey jack cheese

(non low-fat)

1/2

cup

sour cream

(non low-fat)

2

cans Rotel

(10 ounce cans)

1/2

cup

barbecue sauce

(An Eastern Carolina vinegar sauce works well.)

1/2

tsp

garlic powder

1/2

tsp

paprika

1/2

tsp

cayenne pepper

1

pinch

salt and pepper

(to taste)

1

tbsp

chopped green onion
Instructions
Turn slow cooker on to its low setting.

Chop cream cheese into one inch cubes. Place into slow cooker.

Add shredded cheeses to the slow cooker, along with the chicken, bacon, sour cream, and Rotel.

Once the queso has begun to melt together, add the barbecue sauce, garlic powder, paprika, cayenne pepper, salt and pepper.

Let cook in the slow cooker for at least two hours, being sure to stir frequently (at least every ten minutes).

Once fully melted and warmed, set the slow cooker to the warm setting, top with green onion, and serve with tortilla chips.