Decadent spuds!! That's all there is to say about this recipe for Twice Baked Potatoes. Delicious baked russet potatoes loaded with four cheeses and Italian style seasonings! Yep, four cheeses!!! Combined with butter, sour cream, garlic, and pancetta, oh my. Simply decadent. Honestly, I am not a huge fan of baked potatoes, having grown up thinking baked potatoes were mostly served up as a side with a pat of butter. But this recipe certainly steps up your baked potato game!
For the four cheeses, we are going with the old standbys cheddar cheese mixed with mozzarella cheese. Then we are upping the flavor profile with some creamy gorgonzola and tasty asiago cheeses. The gorgonzola cheese and fresh garlic in this recipe play so well together that you just have to try the combination. The way they each amplify and complement their distinctive tastes and aromas, it's a flavor match that must be tasted to be believed.
And of course, no loaded baked potato recipe is complete without some bacon. So how about some crunchy Italian bacon? Yes that's right, some fried crunchy pancetta!! If you have read this blog for any amount of time, you know I love pancetta!! It's a great way to add that smoky salty bacon taste found in all loaded baked potato recipes, so try it out. But if you insist, you can use regular bacon too.
This recipe can be enjoyed as a side dish for some delicious steak or a roast, or you can do what I did and eat it as a snack during some Sunday afternoon football! Either way I hope you enjoy it as I did, and, you're welcome!
Here is it, delicious and ridiculous four cheese fully loaded twice baked Italian seasoned baked potatoes!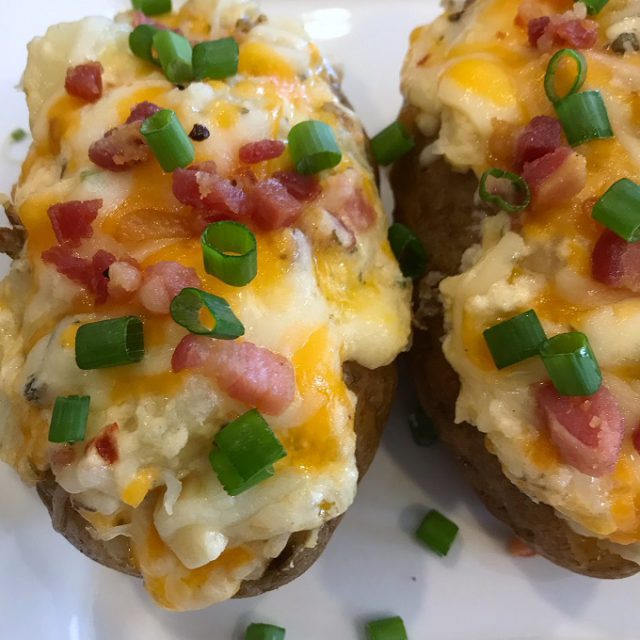 Twice Baked Potatoes
This loaded baked potato recipe with four cheeses, garlic, pancetta, and sour cream will blow your mind and up your baked potato game!
Course:
Appetizer/Side Dish
Cuisine:
Italian American
Servings
:
4
fully loaded potatoes
Ingredients
4

russet potatoes

1/3

cup

shredded cheddar

1/3

cup

shredded mozzarella

1/4

cup

gorgonzola

(small dice)

1/4

cup

asiago

(small dice)

1/2

cup

softened whipped butter

1/2

cup

sour cream

1/4

cup

chives

1

clove

fresh garlic

(minced)

1

teaspoon

oregano

1

teaspoon

herbs de provence

crushed red pepper

(if desired for some spiciness)

black pepper and kosher salt

1/4

cup

chopped green onions

(for garnish)
Instructions
Rinse and scrub the potatoes well. Poke holes with a fork all over the potatoes. Wrap individually in foil and cook on low rack of preheated 400 degree oven for 1 hour.

While the potatoes are cooking, chop the green onions and mix the cheeses.

In a large bowl combine the butter, sour cream, chives, garlic, oregano, herbs de provence, red pepper, and a pinch of black pepper and kosher salt. Mix well.

With about fifteen minutes before the potatoes are done, begin sauteeing the pancetta over low to medium heat until just beginning to get crunchy. Drain.

Add one half of the pancetta and one half of the cheese to the butter/sour cream mixture.

After 60 minutes, remove the potatoes from the oven and unwrap. Pat dry.

Make two cuts through the top of each potato lengthwise, removing a v shaped wedge from each potato. You want the wedge to go at least half way down through the potato, so you will have room to add back the filling. Be careful not to break the potatoes.

Roughly chop each removed potato wedge into smaller pieces, and add to the butter and cheese mixture. Stir until uniform.

Then using a spoon, pack the empty space on each potato with the butter, cheese, and potato mixture. The mixture will come up over the potato, that is okay, but try to pack it in well.

Once each potato is packed with filling, sprinkle the remaining cheese and pancetta over the top. Put back in the oven, and broil on low for 5-10 minutes, until the cheese is nice and melted. Be sure to remove the potatoes from the oven before the cheese begins to burn.

Sprinkle with the chopped green onion and serve hot.