Hey there, Chris here. Get ready for this! Oh boy! Now, do I ever love spicy food!! Hope you do too! This dish is spicy deliciousness!! In general, pasta and cream sauce are a match made in creamy heaven. And this recipe is a new family favorite waiting to happen. The way the cream sauce coats the pasta, making every bite a decadent taste of pure goodness. And now combine that cream sauce with cajun seasoning. Oh yeah, did I say it's going to be great?
The heat laden paprika, pepper, and onion spice in the cajun seasoning provide an amazing complement to the garlic, diced red and green bell peppers and onions in this recipe. Do yourself a favor and don't overcook the peppers, keep them on the crunchy side to serve as a nice texture complement to the rest of the dish. The suggested crushed red pepper is optional, you can skip for less spice, or even add a bit more to up the spice level a bit.
My wife is currently on the keto diet, so for her the pasta in this dish is a no go. However, the sausage is definitely on her menu, so she was able to take the sausage out, along with the vegetables, and enjoy this dish as I and the kids did. Although our son went running for milk after a while, as his mouth got a little too spiced up. I recommend you use a spicy Italian sausage for this dish, or an andouille sausage will work very well too.
This dish is a nice change of pace from the traditional Italian meal, and provides a new amazingly delicious way to eat pasta. What I like about this particular dish is that the pasta actually does not have to be the center piece of the meal. The sausage and the vegetables do a great job holding their own here, so a half pound or less of the pasta will work just fine for those of you trying to limit your carbs intake.
The final result? This a sure shot crowd-pleaser and will be an amazing addition to your meals repertoire!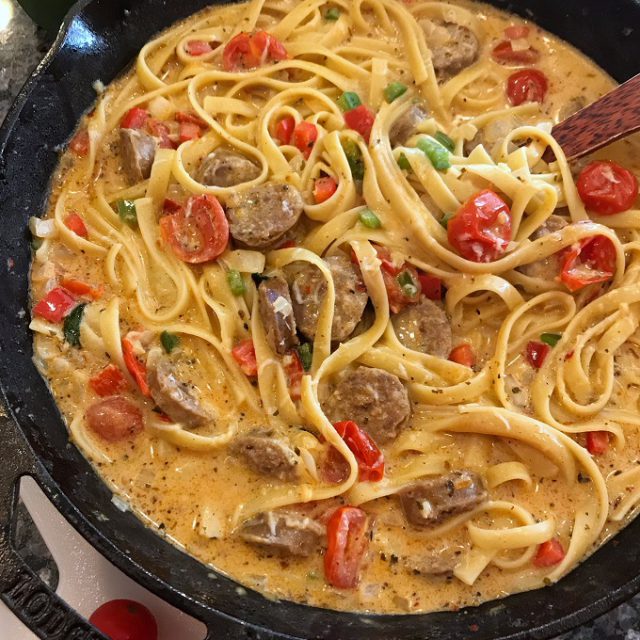 Creamy Cajun Pasta with Spicy Sausage
Ingredients
1/2

lb

spaghetti

linguine, or fettucine

12

ounces

spicy sausage or anduille

5

tablespoons

butter

2

tablespoons

all purpose flour

2

cups

milk

3-4

cloves

garlic

minced

1

cup

diced red and green bell pepper

1

cup

sweet yellow onion

1

cup

cherry tomatoes

halved

4-5

large leaves of basil

chopped

2

tablespoons

cajun seasoning

1

teaspoon

oregano

1/2

teaspoon

crushed red pepper

pinch

of kosher salt

chopped parsley and grated cheese to taste

Parmigiano Reggiano or Asiago will work
Instructions
Roast the sausage, covered with foil, in the center of a preheated 350 degree oven for 30 minutes. Turn the sausage when half way done. Remove from oven. Dry off any excess grease and cut into slices. Cover and set aside.

Prep the diced bell pepper and onion. Slice the tomatoes. Add the chopped basil to the tomatoes and mix. Set aside.

Boil the pasta in well salted water until just barely al dente. Drain and set aside.

Heat the butter in a skillet over medium heat. Add the onions and simmer until tender and translucent, five to ten minutes, then add the garlic, simmer for another five minutes.

Add the flour and mix well to create a roux with no clumps.

Now add the milk, diced peppers, sliced tomatoes with basil, cajun seasoning, oregano, crushed red peppers, and salt. Stir well.

Simmer for five minutes and add the sausage slices and pasta. Mix well, getting the creamy sauce to coat the pasta, and simmer on low heat for another 15 minutes.

Serve while hot, using crushed parsley and grated cheese as a topping, to taste.