Lots of soup recipes to go around. This Creamy Tortellini Soup with Italian Sausage and Spinach is definitely one of my favorites. Made this for lunch on a Sunday afternoon recently for Jaime and I. Did the kids have any? Nope, of course not. The kids have very simple tastes, so they won't be adventurous when it comes to food. As my dad would say: "They don't know what they are missing."
This recipe calls for some dairy cream for adding the requisite creaminess. As you might know, I am a big fan of the cashew cream as a sometimes substitute for dairy cream. If you want to take a look at how to substitute in cashew cream, take a look at this Creamy Alfredo sauce recipe.
Without further ado, here is my recipe for Creamy Tortellini Soup with Italian Sausage and Spinach. Enjoy.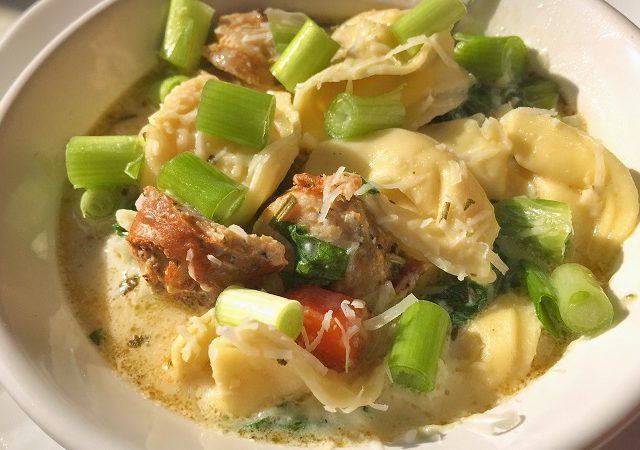 Creamy Tortellini Soup with Italian Sausage and Spinach
A crazy delicious creamy tomato soup with three cheese tortellini, Italian sweet sausage, and spinach.
Ingredients
3

tablespoons

olive oil

1

medium sweet onion

(diced)

4-5

garlic cloves

(minced)

3

Roma tomatoes

(julienned)

28

ounces

crushed tomatoes

4

cups

chicken stock or broth

1

cup

heavy cream or half and half

1/2

cup

fresh grated Pecorino-Romano cheese

20

ounces

three cheese tortellini

5-6

links Italian sweet sausage

(seared and sliced)

2

cups

chopped spinach

1

teaspoon

fresh chopped oregano

1

teaspoon

fresh chopped basil

kosher salt and pepper

(to taste

Pecorino-Romano cheese

(to taste)
Instructions
Quickly sear the sausage links in a cast iron pan over high heat, 3-4 minutes on all sides. Set aside.

In a large saucepan, saute the diced onions in the olive oil for five minutes over medium heat. Add the garlic and continue sauteing until the onions are translucent.

Add the julienned tomatoes, crushed tomatoes,and chicken stock and bring to a slow boil. Reduce the heat to low-medium. Add the oregano, kosher salt and pepper and simmer for 20 minutes.

Add the grated cheese and cream and stir well. Cut the sausage into uniform slices and add to the soup along with the basil. Simmer for 10 minutes.

Now add the tortellini and spinach. Continue simmering until the tortellini are cooked, trying not to overcook the spinach, about 10 more minutes.

Serve while piping hot with Pecorino-Romano cheese to taste. Bon appetit!