One thing that writing this blog has shown me over the last few months is that I absolutely love soup. And when you can apply that love to creating something new, sometimes you just outdo yourself. This Creamy White Tortellini Soup is quick, easy, and deliciously creamy. Not to mention packed with delicious seared chicken sausage, fresh escarole, and topped with chopped green onions. Prepare for an explosion of deliciousness on your taste buds.
Soups are always a great way to get creative, throw some ingredients together, and see what you come up with. This recipe came together once I saw I had some half and half, a few links of chicken sausage, and fresh three cheese tortellini I needed to do something with. Aha, I said. How about a soup!!?? But of course!
So yeah, this soup has a bit of something for everyone. The escarole, carrots, and celery will satisfy the veggie lover. The tortellini and Pecorino-Romano will satisfy your cheese-lover. And the chicken sausage will satisfy your meat lover. All in a single dish. Soups are the best that way!
Here it is, the Creamy White Tortellini Soup With Chicken Sausage and Escarole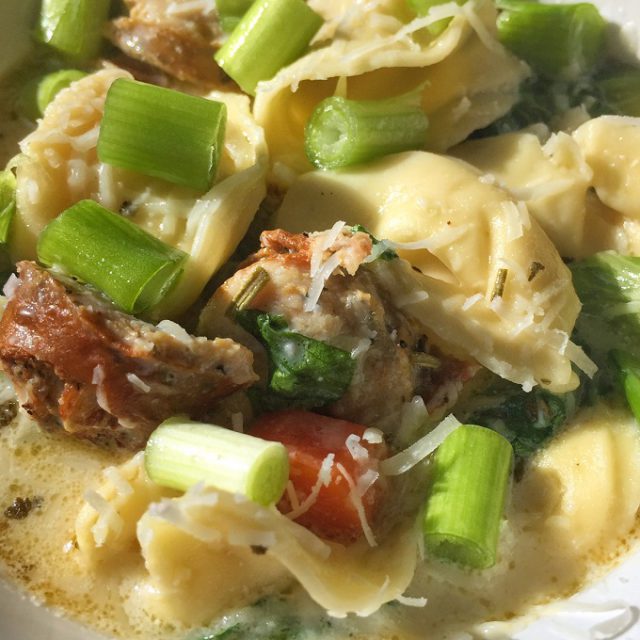 Creamy White Tortellini Soup With Seared Chicken Sausage and Escarole
A creamy dreamy tortellini soup with chicken sausage and escarole.
Ingredients
3

tablespoons

olive oil

1

medium sweet onion

(diced)

5

cloves

fresh garlic

(minced)

3

carrots

(peeled and uniformly sliced)

3

celery stalks

(uniformly sliced)

5

cups

chicken stock

1/2

cup

fresh grated Pecorino-Romano cheese

1

cup

heavy cream or half and half

1

teaspoon

oregano

1

teaspoon

kosher salt

1

teaspoon

crushed black pepper

20

ounces

three cheese tortellini

1

cup

orzo

5-6

links chicken sausage

(seared and sliced)

3

cups

fresh escarole

(washed well and chopped)
Instructions
Saute the diced onions in the olive oil for five minutes. Add the garlic and continue sauteing until the onions become translucent.

Add the chicken stock, carrots, celery, oregano, salt, and pepper. Bring to a slow boil and reduce heat to just below boiling.

Add the slices of chicken sausage and simmer for 20 minutes.

Add the cream, grated cheese, tortellini, and orzo and continue simmering for 15 minutes.

Lastly, add the chopped escarole and continue simmering for about ten minutes. Don't let the escarole get wilted or lose its green color.

Serve in separate soup bowls while piping hot and enjoy.