Ahh, lentil soup with pancetta. This soup is a complete convenient meal in a bowl. You will receive a good return on investment of your time spent shopping, prepping, and cooking, with a delicious final product at the end. My wife and kids are not big lentils fans, but my wife enjoyed this soup very much. I grew up loving my mom's lentils and pasta, so I am always a big fan and am not too picky. For such a small unassuming bean, lentils can be quite versatile, and do a good job taking up the flavors and aromas of the soup.
This soup will cook in an hour or so, and will be a drier thicker soup, even with the extra water. The second day this soup will basically be pasta and lentils, as the pasta and lentils will absorb all of the broth overnight. If you want more liquid, add another 3-4 cups of beef broth to the recipe. Of course if you want to go vegetarian with this soup, just take out the pancetta and sub vegetable broth for the beef broth.
So here we go, delicious lentil soup with pancetta.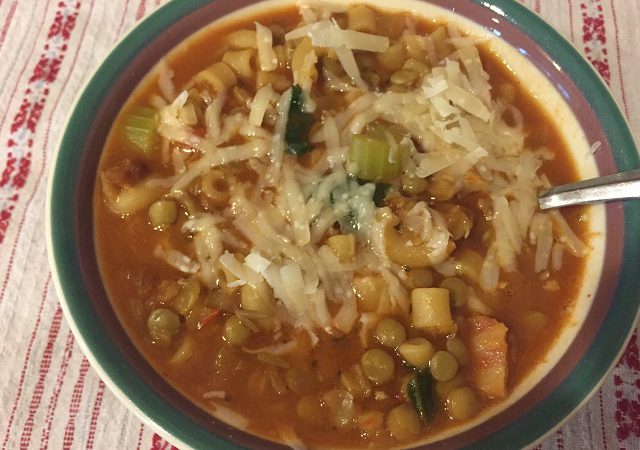 Lentil Soup with Pancetta
A delicious lentil bean soup with tomatoes, carrots, celery, and pancetta.
Ingredients
2

tablespoons

extra virgin olive oil

1

medium sweet onion

3-4

cloves

fresh garlic

(minced)

4

cups

beef broth

2

carrots

(peeled and sliced)

2

stalks celery

(sliced)

1

cup

pancetta

3

cups

lentils

(soaked and rinsed in cold water)

1 1/2

cups

diced tomatoes

2-3

plum tomatoes

(julienned)

1 1/2

cups

crushed tomatoes

2

cups

Baby Spinach

(no stems, coarsely chopped)

2

cups

water

2

cups

small pasta

(such as ditalini or bow ties)

2

bay leaves

1/2

teaspoon

dried thyme

1

teaspoon

oregano

1

teaspoon

Italian seasoning

1/2

teaspoon

crushed red pepper

2-3

Parmigiano-Reggiano cheese rinds

kosher salt and pepper

Parmigiano-Reggiano cheese

(grated, to taste)
Instructions
Saute onions for five minutes in oil over medium heat. Add the garlic, saute another five minutes.

Add the beef broth, all the tomatoes, pancetta, carrots, celery, water, bay leaves, thyme, oregano, Italian seasoning, and red pepper. Bring to a slow boil and reduce heat to low-medium heat. Check the salt and pepper seasoning and fix to taste.

Add the cheese rinds and simmer on low-medium heat for 20 minutes. Add the ditalini, simmer for 20 more minutes, and finally add the spinach and simmer on low heat for 10 more minutes.

You are shooting for the vegetables and lentils to be cooked just a tad beyond al dente, pasta cooked al dente, and spinach lightly wilted.

Remove the bay leaves and cheese rinds, serve piping hot in a bowl, topped with Parmigiano-Reggiano to taste.