I made these Spicy Beef Nachos as a snack on Super Bowl Sunday. Great for game day, these nachos were so good they were long gone before the Patriots began their miracle second half comeback. Nachos are truly the ultimate comfort snack food.
I love a little zing, so for me fresh jalapenos slices are an absolute must. I don't necessarily want every jalapeno slice to be super hot, so for some of the slices I remove the flesh and the seeds (the really hot parts), but for others I leave them in for a little extra heat. I also love what the fresh chopped cilantro brings to the table. To me, cilantro brings a delicious hint of lemon-lime earthiness to a dish.
Serve these nachos with plenty of chips to scoop up all of the Spicy Beef Nachos goodness. You can of course mix and match the toppings according to your own preference. Semi-pro tip: thicken up the liquid with 2 tablespoons flour to 1 tablespoon corn starch, mix, and repeat as necessary, so there is not too much liquid when you put the meat over the chips. Too much liquid equals soggy chips.
Enjoy these terrific Spicy Beef Nachos. This is how we do it: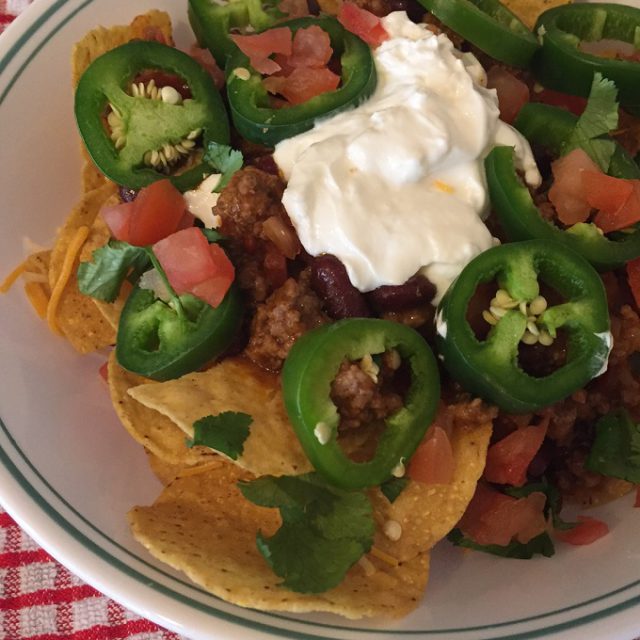 Spicy Beef Nachos
Delicious spicy beef nachos with all the savory toppings you need for game day.
Servings
:
8
-10 large bowl servings
Ingredients
4

tablespoons

vegetable oil

(covering the bottom of a large skillet)

1.5-2

lbs

ground beef

1

large sweet onion

(diced)

4

cloves

garlic

(minced)

4

cups

diced tomatoes

(canned, chili-style)

2

tablespoons

chili powder

1

tablespoon

chile pepper powder

(chipotle or ancho chile pepper powder)

2

teaspoons

cumin

2

teaspoons

crushed red pepper

2

cups

of water

2 15-

ounce

cans of red or black kidney beans

(drained)

kosher salt and pepper to taste

1

bag

(10-13 ounces of sturdy nacho chips)
For toppings
sour cream

fresh shredded lettuce

fresh diced tomatoes

fresh cilantro

(chopped)

jalapeno peppers

(sliced)

shredded cheddar

(colby-jack, or mexican cheese)
Instructions
The Chili
In a large skillet, warm the vegetable oil over medium heat. Saute the onions in the oil for five minutes. Add the garlic and saute for five more minutes.

Add the ground beef, chili powder, chile pepper powder, cumin, light kosher salt, and crushed red pepper and cook until beef is completely browned (5 to 10 minutes).

Add the tomatoes and beans with 3 cups of water, mix well, and bring the chili to a slow boil. Turn the heat to low and continue braising the chili on low heat for 1 hour, stirring occasionally. If there is too much liquid, thicken it up by mixing in 2 tablespoons flour with 1 tablespoon corn starch, repeating as necessary. As it cooks, check the seasoning and correct with salt and pepper.
The Nachos
Fill a large bowl with some of the chips. Sprinkle a few handfuls of the cheese over the chips. Spoon 2 - 3 generous ladelfuls of the chili over the top of the chips and cheese. Put the cheese first so the hot chili can melt the cheese a bit. Top with some lettuce, a few pinches of cilantro, diced tomatoes, 8-10 jalapeno slices, a nice dollop of the sour cream, and anything else you think will work.

Eat and enjoy, using the chips as spoons for all the chili goodness. Make sure you have a drink handy.