My mouth was watering as I wrote this simple Ultimate Spicy Italian Sub recipe. Good thing I had one ready to eat after taking the pictures!
This sub is a staple sandwich for the Southern Italian-er. You cannot beat biting into this sandwich. The crispy bread with a soft doughy interior. The saltiness of the meat, combining with the crispy fresh bites through the lettuce, cucumbers, tomatoes, peppers, and pickles. Then the jalapenos turn on the heat, with just the perfect kick of oregano to end it all off. Make this with the capicola if you can find it, otherwise a regular ham will work as well.
With all of the sensations coming at you as you work through this sandwich, it just does not get much better when it comes to a cold-cut sandwich. And it goes without saying, the meats must be Boar's Head brand.
This is how you do it: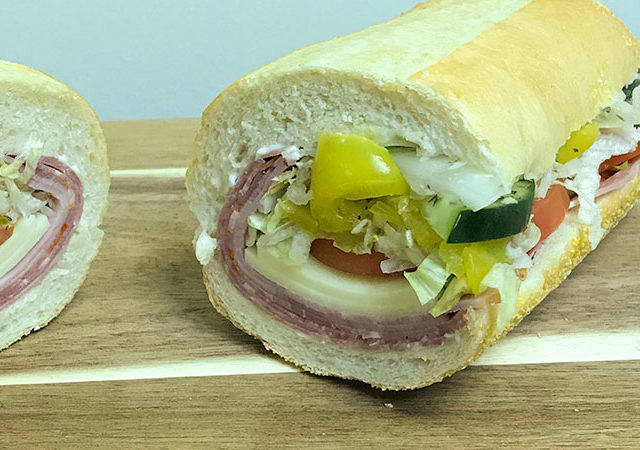 Ultimate Spicy Italian Sub
A delicious fresh and spicy take on the Italian style deli-meat sandwich.
Servings
:
1
Delicious Sandwich
Ingredients
1

foot

long loaf of Italian bread

5-7

slices

pepperoni

5-7

slices

capicola (Italian ham)

5-7

slices

genoa salami

4

slices

provolone cheese

1/2

cup

shredded lettuce

4

slices

tomato

5-7

slices

cucumber

1/4

cup

chopped onion

1/4

cup

sliced dill pickles

1/4

cup

chopped banana peppers or pepperoncini

1/4

cup

sliced pickled jalapenos

2

tablespoons

mayo

oil and vinegar to taste

crushed fresh oregano to taste
Instructions
Slice your bread down the side.

Apply mayo. Then add your cheese over the mayo.

Put the meats onto the sandwich, arrange them so the meat will be both the floor and the ceiling over the rest of the condiments to be added, once the bread is closed.

On top of the meat put your shredded lettuce, tomato, cucumbers, onion, pickles, banana peppers and jalapenos. And whatever else your heart desires!

Pour on the oil and vinegar and top it all with the fresh oregano.

Say yum.