My kids, like most kids, really enjoy Rice A Roni. If you let them, they will eat this as a meal all by itself. I certainly would have when I was younger. Or last week! Don't judge!
But, what do you do if you don't have any on hand in the pantry, but you have some plain rice? Unfortunately, cooking up plain rice is not going to work, because in my opinion plain rice just isn't tasty by itself. Plain rice needs a lot of help in the taste department.
So it is not a bad thing to learn a simple recipe and be able to recreate the San Francisco treat in your own kitchen. It is not terribly difficult and many people probably will not know the difference. So here you go. Enjoy!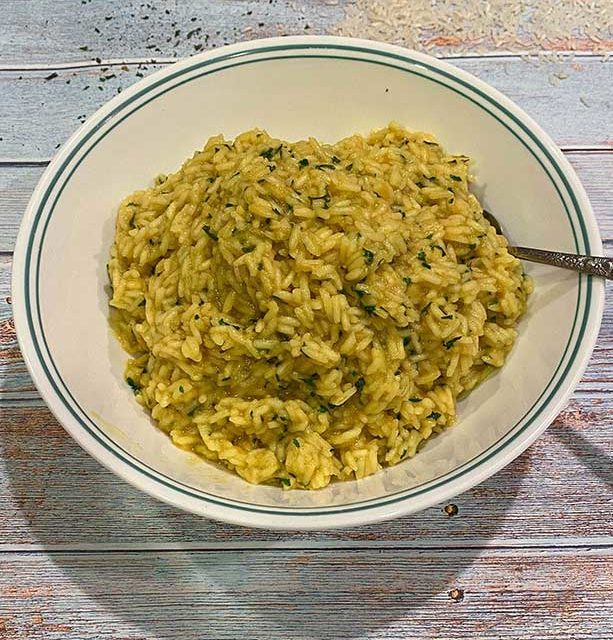 Chicken Rice A Roni Copycat Recipe
A quick and simple chicken rice a roni recipe when you don't have the real thing.
Ingredients
2

tbsp

butter

1

cup

rice

(long grained rice, can also add vermicelli or angel hair pasta broken into small pieces)

2 1/2

cups

chicken broth or stock

(sodium free)

1/2

tsp

salt

2

tsp

garlic powder

1/2

tsp

onion powder

1/4

tsp

turmeric

1

cube

chicken bouillon

1

tbs

parsley

(freshly chopped)

salt and pepper to taste
Instructions
Melt the butter over medium heat in a 10 inch frying pan. Add the rice and saute in the butter. Keep the rice mixing until it is very lightly browned. This should take no more than five minutes.

Add the chicken broth or stock. Add the salt and mix the rice evenly into the broth. Reduce the heat to low and saute the rice covered for 15 minutes. Keep an eye the rice during this step. It's a good idea to use a see through cover so you can see the rice without taking the cover off.

Towards the end of the 15 minutes, the liquid should be significantly reduced and the rice close to cooked. If it is not, you may need to increase the heat slightly but don't over do it.

When the liquid is significantly reduced but not completely absorbed, add the garlic powder, onion powder, turmeric and chicken bouillon. Mix the rice well until all of the ingredients are blended in. Be sure that the chicken bouillon cube has broken up and mixed. Once mixed, the rice should have a yellow color.

Now add the parsley and mix well. The rice is ready to be transferred to a serving bowl and served. Salt and pepper to taste.