Winter holiday time is really my favorite time to cook. The weather gets a little chillier, the food gets a little heartier. One thing I don't make much during the warm months is the all day slow cooked Sunday tomato sauce with meat. Well that changes once the Fall arrives. And when I decide to cook the Sunday sauce, Italian Beef Braciole is definitely going on the menu.
My family and I are big fans of steak. Even my picky children will not turn their noses up at steak. We are also huge fans of Italian food. So it's inevitable that steak and Italian food are eventually going to come together. So it's a no brainer that with my Sunday sauce I go for the classic Italian Beef Braciole. Now admittedly, Italian Beef Braciole is a bit labor intensive. But it's well worth the effort. Italian Beef Braciole also gives you a bit of an opportunity to interact with your butcher to get the perfect cuts of meat, as well as work some knife and meat pounding skills (take out some of that aggression on some meat why don't you?), because with Beef Braciole the preparation of the meat is really important.
Italian Beef Braciole requires a thin sliced cut of meat. Top Round cut works pretty good for this dish. If you can get it sliced thin by the butcher then you are golden. This recipe calls for 2 pounds of top round, which will ultimately make about 12 separate bracioles. The recipe can very easily be cut down in half if you wish. Two pounds of top round can be cut by your butcher to give you about 6 1/8 inch strips of 5 inch by 10 inch top round. Your supermarket may even have the meat pre-cut for you if you look for it. When each strip is rolled up, you will cut them in half, creating 12 bracioles.
Bracioles can be stuffed with many different things, and people can get pretty creative sometimes by including nuts and raisins. This particular recipe is pretty straight forward though and I would consider a classic braciole stuffing.
Important things to remember when cooking the braciole. In my opinion, string is better than toothpicks for holding the bracioles together. Sure it's a bit more labor, but string will definitely keep your filling from leaking out. Just get your sauce going and then turn your attention to the bracioles. Also, after browning the braciole in a pan, a long and slow simmer in the marinara sauce is the name of the game. Once the braciole is done simmering in the sauce, you will be amazed at how easy it is to cut the braciole with nothing but your fork as it has become nearly falling apart tender and so delicious.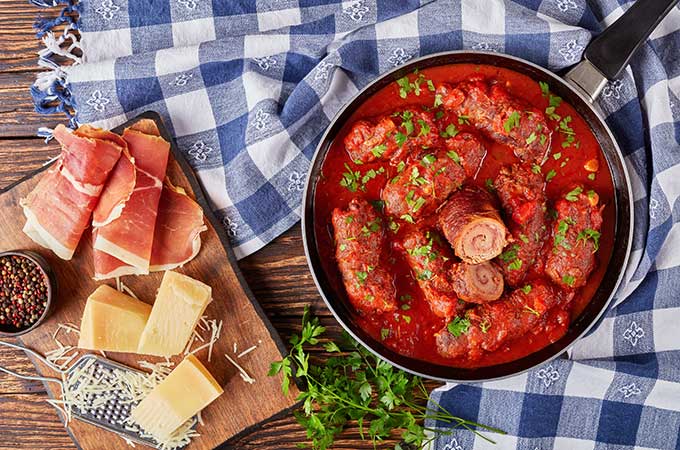 So here it is, a classic riff on the Italian Beef Braciole.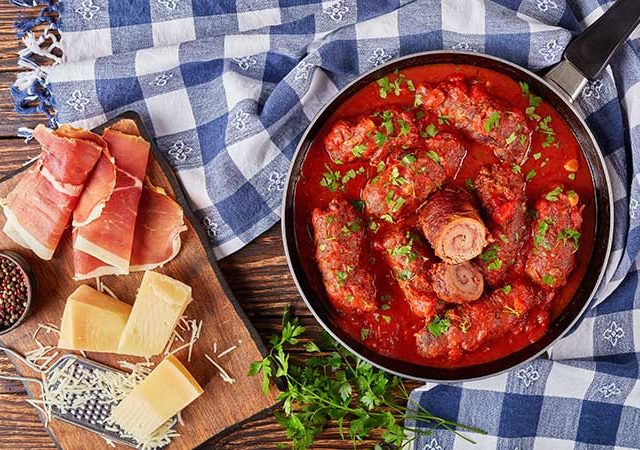 Italian Beef Braciole
Italian Beef Braciole is a tender slow cooked thin sliced beef roll up stuffed with prosciutto, bread crumbs, Pecorino Romano cheese, fresh parsley, garlic, and onions.
Cuisine:
Italian American
Ingredients
2

lbs

thin cut beef

(Top Round works great, pounded to 1/8 inch thickness, 6 10 inch by 5 inch rectangles, will make 12 Bracioles

1/4

pound

sliced prosciutto

(12 paper thin slices)

1/2

cup

Italian seasoned bread crumbs

1/2

cup

fresh chopped Italian parsley

1/2

cup

fresh grated Pecorino Romano cheese

1/4

cup

fresh grated Parmigiano Reggiano cheese

1/4

cup

finely diced sweet onion

1/2

tbsp

powdered garlic

dash of black pepper and salt
Instructions
The beef preparation is most important for Italian Beef Braciole. Top Round beef works best in my opinion. You can get the beef cut by your butcher to the needed specifications, 6 strips of 5 inch by 10 inch 1/8 inch thick top round. If not, you will have to use some knife and pounding skills to generate these 6 strips of beef.

Prepare your filling by combining the bread crumb, parsley, cheeses, garlic, diced onion, salt and pepper in a bowl. Mix uniformly.

On each strip of meat, spoon a layer of the filling to completely cover the meat. Less is more in terms of how deep the layer of stuffing should be, but be sure to cover the entire strip. Based on my measurements, you should be able to use up most if not all of the filling on the six strips.

Next, lay two slices of prosciutto over each strip of meat.


Now you are ready to roll up the bracioles. Tightly roll up each piece of meat, taking care that the stuffing ingredients remain in place. Sometimes on one end of the top round strip you will notice a break or hole in the cut, if you see this, try to roll the bracioles so that the holes end of inside of the roll and not on the outside, because if they are on the outside they may leak some filling.

Secure each braciole tightly with one tie of butcher's string on each end and two in the middle. You need the roll ups tight enough so they cannot come undone during the cooking process, but don't tie the strings so tightly that you constrict the shape of the bracioles. Cut each braciole in half between the middle strings.

Heat the cast iron skillet under medium heat until a very thin layer of cooking oil is about 350 degrees. Brown the bracioles on all sides.

Once browned, add the bracioles to your tomato sauce to slow braise the meat under low heat until tender, at least 3 hours or longer.