It really does not get much better than a perfect batch of chocolate chip cookies. I used to always get these white chocolate and macadamia nut cookies from Subway, to go alongside my Italian BMT sub. They were so good. Then I realized I can make them myself. Uh oh…..
If you are looking for a no-fuss can't-fail cookie recipe, this is it. Everybody should have one and now you do. You're welcome.
This recipe will work for your basic chocolate chip cookies as well, just skip the nuts and use black chocolate chips instead of white.
Be careful when cooking these! It can be easy to overcook cookies because you don't think they are done. And overcooked cookies are not going to get rave reviews. Just let them bake for ten minutes. They will be pale, dry, and puffy. This is what you want. Once they cool for about thirty minutes, they will puff back down and become super gooey soft cookies.
These cookies will keep for a few days in an airtight container (but most likely they will be gone long before). A good trick to keeping the cookies soft is to add a slice of bread to the container. Try that out if they will be around for a few days.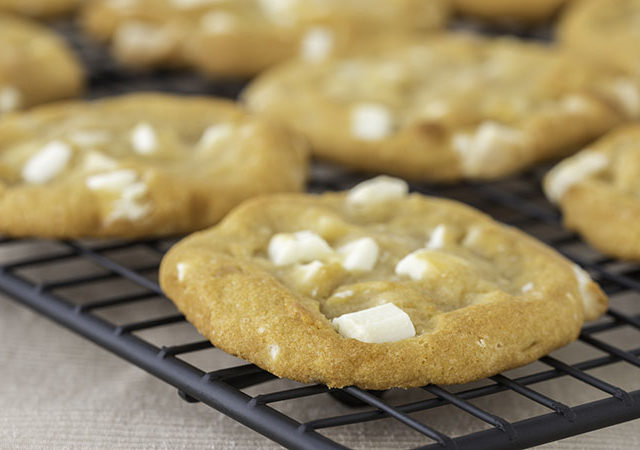 White Chocolate Chip Cookies with Macadamia Nuts
Delicious soft and chewy white chocolate morsel cookies with macadamia nuts.
Ingredients
1/2

cup

softened butter

1/2

cup

brown sugar

1/3

cup

granulated sugar

1

teaspoon

vanilla extract

1

egg

1 1/2

cups

all purpose flour

1/2

teaspoon

salt

1/2

teaspoon

baking soda

3/4

cups

white chocolate morsels

1/2

cups

chopped macadamia nuts
Instructions
Preheat your oven to 350 degrees.

The butter needs to be softened, so put it in the microwave for 30 - 40 seconds. It shouldn't be hot or boiling, but it should be liquified.

Using a stand mixer or handheld mixer, beat the butter with the brown sugar and granulated sugar until creamy.

Add the vanilla and the egg; beat on low speed until it just becomes incorporated – (10-15 seconds on low speed or so, don't over do it).

Sift together the flour, baking soda, and salt. Add it to the butter/sugar mixture, reserving about a 1/2 cup to the side. Mix on low speed until crumbles form. Use your hands to press the dough together into a ball. It will likely be wet and sticky so slowly add the reserved flour and continue pressing together. You are finished when the stickiness has subsided and and large easy to handle dough ball is formed.

Add the chocolate chips and the nuts and incorporate with your hands or fold in with a spatula.

Roll the dough into 15-20 balls (about the size of a golf ball or slightly bigger) and place on a cookie sheet.

Bake for 9-11 minutes. Trust the time and temperature. The cookies are finished when they look puffy and dry. Do not overcook. It's easy to be tricked into thinking they are not done yet. Dry nd puffy is what you are looking for.

Let the cookies cool on a wire rack for a half hour. You might be concerned by the puffiness, but they will sink down to a normal cookie as they cool.