Spaghetti alla Puttanesca perhaps has a naughty origin in Italy, but this recipe is a guaranteed hit. Each time I have made it, it is basically lick the plate worthy. Perhaps you have had this experience … you go out to an Italian restaurant and the spaghetti sauce leaves you dying for more. How is it that they make that sauce so darned good?
Tomato sauce recipes are truly a dime a dozen on the Internet. The principal of the recipes is fairly simple, but getting to tomato sauce perfection can be difficult. Generally you slow cook the tomatoes down and try to find that sometimes elusive balance between sweet, sour, acidity and salty. Once you find that balance, you are well on your way to a delicious dish. But this recipe adds just a little bit of something more.
The secret ingredient here is the chopped anchovies. Hell umami bomb!! Anchovies are known for providing to a dish an additional taste called umami. You might notice this in Ceaser salad dressing. Umami is known as the savory taste, and it is this taste that makes you want to lick the plate clean. The grated Parmigiano Reggiano cheese is another ingredient that provides umami to this dish. I know what you are thinking, you don't like anchovies. Don't worry if you are not a fish lover, I am not either, but the anchovies are still a must for this dish. I promise the sauce won't be fishy. You can optionally skip the whole anchovies but the chopped anchovies basically disappear in the skillet along with the extra virgin olive oil, garlic and onions. But it is still there, making you savor every taste of the tomato sauce.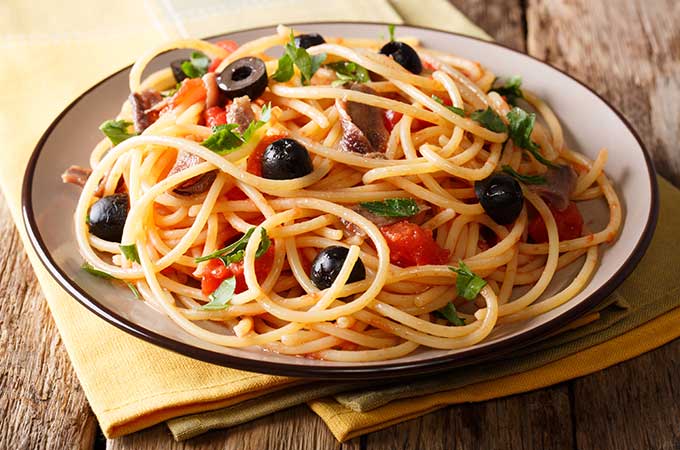 Oh, and why does this dish have a naughty origin? Well, in Italian the word 'puttanesca' essentially refers to the 'style of prostitutes'. The apocryphal story goes that prostitutes in Italy only had the resources and time to be able to make this simple pasta dish for themselves. The truth of this origin story seems doubtful, but I suppose it makes for an interesting discussion. In any event, this recipe is delicious and should certainly be one of those basic recipes in your repertoire.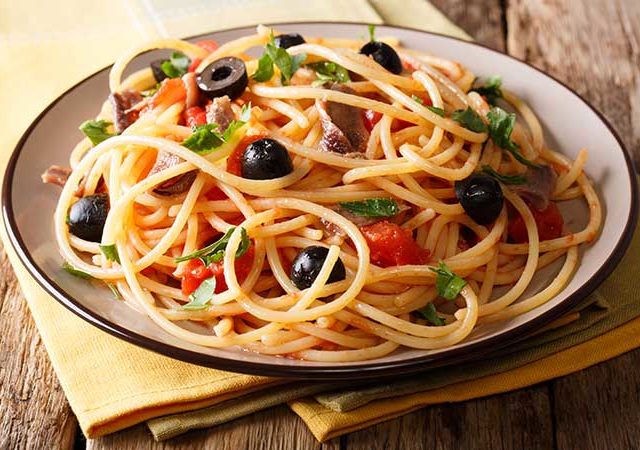 Spaghetti alla Puttanesca
This simple classic Italian spaghetti dish comes with a guarantee you will lick your plate clean.
Ingredients
2

tablespoons

extra virgin olive oil

1

cup

diced white onion

4 or 5

garlic cloves

minced

8

anchovies

2-3 finely chopped and a few whole

1

teaspoon

crushed red pepper

1

tablespoon

Italian parsley

1 - 1.5

cups

tomato sauce

2

tablespoons

capers

1/3

cup

sliced pitted black olives

1

lb

spaghetti

Grated Parmigiano Reggiano
Instructions
Begin cooking the spaghetti until al dente, drain but reserve a half cup of the pasta water.

Place a large skillet over medium heat.

Add the extra virgin olive oil to the skillet and warm until just before it begins to smoke.

Add the onions and simmer for about five minutes. Then add the minced garlic and chopped anchovies. Continue to simmer until the onions are translucent, about five more minutes. Don't let the garlic or anchovies burn.

Ladel the sauce into the skillet, add the whole anchovies, olives, crushed red pepper and parsley, and mix it all together. Simmer for ten minutes.

Add the spaghetti and mix well, add in the pasta water slowly until you have the sauce consistency you want.

Add the capers and let it continue to simmer for ten more minutes.

Serve the spaghetti into separate plates, garnish with additional parsley and Parmigiano Reggiano.