Ragu alla Bolognese is a delicious chunky meat tomato sauce originating from Bologna Italy. Recently my wife and I went to Da Vinci's Ristorante in Greenville, SC for our eleventh anniversary dinner. I had the bolognese sauce on taglietelle pasta, which was absolutely delicious.
A few days later I was looking in the old pantry for some dinner ideas and of course found some penne and crushed tomatoes. Once I looked into the freezer I saw I had some meat left over from a meatloaf I made earlier in the week for the family. Okay, now an idea was starting to come together. Why not try to make my own bolognese sauce? So that is what I did.
The best tip you can get for bolognese sauce is to be sure to well-season the meat. If the meat is not seasoned prior to the initial saute and slow-braise, this sauce will be bland and disappoint. So be sure to get those Italian seasonings out and brought to bear on the meat. Bolognese sauce is meant to be paired with a short pasta, or you can give taglietelle pasta a try as well.
And last, don't skip the red wine or the milk in this recipe. These two ingredients are essential to getting the sauce to taste just right. The red wine will provide an elegant taste to the sauce, while the milk will help to make the meat just a bit more tender and the sauce smoother with just  touch of orange.
Here is my recipe for Penne with Ragu alla Bolognese. Enjoy!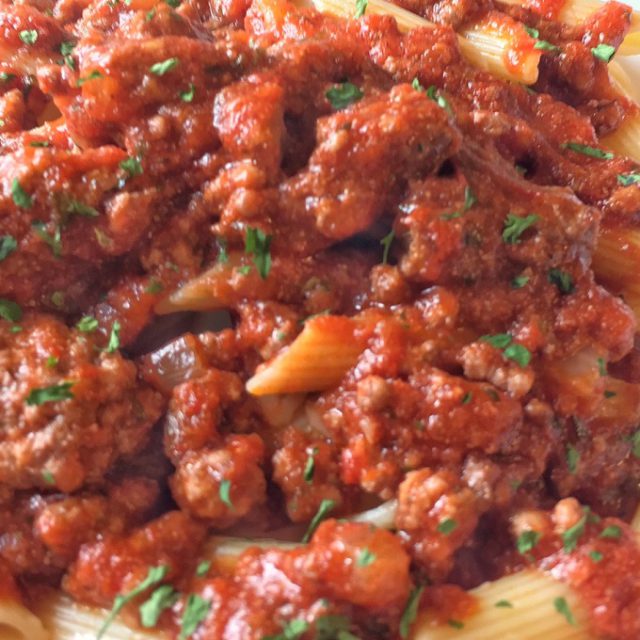 Penne with Ragu alla Bolognese
An elegant chunky and rich meat sauce ragu paired with delicious penne pasta.
Ingredients
3

tablespoons

olive oil

1

medium white onion

(diced)

5-6

cloves

fresh garlic

(minced)

1

large carrot

(finely sliced)

12-16

ounces

chopped beef

1

tablespoon

herbs de provence

1/2

tablespoon

parsley

1/2

teaspoon

salt and crushed pepper

1/2

cup

red wine

1/2

cup

milk

4

cups

tomato sauce

1

lbs

penne pasta

(cooked al dente)
Instructions
In a large skillet, saute the onions and carrots in the olive oil over medium heat. After five minutes, add the garlic and continue until the onion is translucent.

Season the beef with the herbs de provence, parsley, salt and pepper. Add the seasoned beef to the skillet and gently brown the beef over low to medium heat, continue for about five minutes while continuing to stir the meat.

When the beef has been lightly browned, add the red wine and milk. After allowing the liquid to evaporate off, add the four cups of tomato sauce and stir well.

Continue simmering on low heat for at least one hour. Add the al dente cooked penne and again stir well until the penne is well coated with sauce. Simmer for five to ten more minutes.

Serve while hot, garnished with fresh parsley and Parmigiano-Reggiano cheese to taste.