This is another baked pasta dish that is sure to be a crowd-pleaser at your dinner table. Very rich and creamy, it's not an everyday dish. But you can pull it out every once in a while for a Sunday dinner. Everybody will be stuffed and happy. And the shape and texture of the orecchiette pasta surprisingly lends itself well to being baked in this dish.
Ordinarily you want to serve pasta more on the al dente side of the cooking spectrum, not overcooked and mushy. But baked pasta is a bit different. Baked pasta is supposed to turn out on the softer side when it is finished cooking. Think baked ziti or baked rigatoni, those pastas do well after baking; they are soft but they also hold up. But sometimes the texture gets a little to uniformly soft, and in my opinion a bit of variety in the texture of your food can go a long way.
For this recipe I decided to try orecchiette pasta. The shape of orecchiette allows for it to sometimes stack together when it cooks. This does a couple of things for this dish. First, when the pasta is stacked, it sometimes takes a bit longer to cook through and become soft. So you end up with most of the pasta being pretty soft, but dispersed throughout you'll get some of the stacks which are a bit less soft. This is helpful to the overall texture of the dish.
The other benefit of the stacking is that sometimes the sauce and the cheese mixture will be trapped in the stacks as well, so you get some local areas of extra sauciness and creaminess, which I don't have to tell you is big plus in my book.
So if this Easter holiday you are looking for a simple baked pasta dish to make for your family, try this Baked Cheesy Pasta with Pancetta and Spinach and I hope you have a great Easter holiday!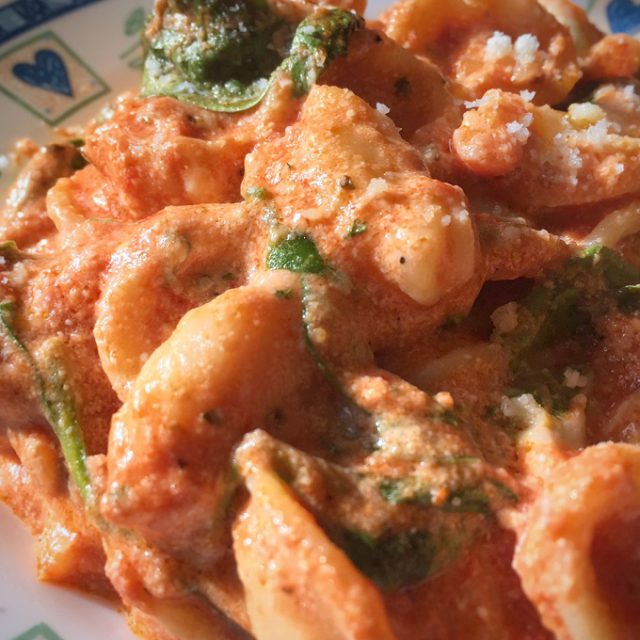 Baked Cheesy Pasta with Pancetta and Spinach
Delicious and scrumptious cheesy pasta with pancetta and spinach in creamy tomato sauce.
Course:
Baked Pasta Entree
Cuisine:
Italian American
Servings
:
12
-15 servings
Ingredients
6

cups

tomato sauce

24

ounces

orecchiette pasta

(2 12 ounce boxes, just to the beginning of al dente and drained)

16

ounces

pancetta

(chopped small or diced)

16

ounces

shredded mozzarella

1/2

cup

Parmesan cheese

32

ounces

ricotta cheese

1

egg

2

tablespoons

garlic powder

2

tablespoons

oregano

1

tablespoon

parsley

1

teaspoon

kosher salt

1

teaspoon

ground pepper

3

cups

spinach

(washed and stemmed)

Pecorino-Romano cheese

(to taste)
Instructions
In a large mixing bowl, combine the ricotta cheese, about three quarters of the mozzarella cheese, parmesan cheese, the egg, garlic powder, oregano, parsley slat, and ground pepper. Mix well until the cheese uniform.

Pre-heat oven to 375 degrees.

In a 10 '' by 13 '' oven safe dish, take about 1 cup of the tomato sauce and line the bottom and sides.

Add half of the just barely al dente-cooked orecchiette to the dish and spoon about 2 cups of the tomato sauce, half of the cheese mixture, and half of the pancetta. Stir well until the pasta is well coated. Add the remaining pasta, the remaining cheese mixture and pancetta, and another two cups of the tomato sauce. Again, mix until all of the pasta is uniformly coated. Mixing in stages just makes it easier to get uniformly coated pasta.

Now, add the spinach and very gently mix to uniformity, about 1/2 of the spinach at a time.

Top with the remaining 1 cup of tomato sauce and the remaining mozzarella cheese.

Cover with foil, place in oven and bake on lower rack, for about one half hour. Remove foil and finish baking until the mozzarella cheese is nice and bubbly, about another 15 minutes, more or less, let the cheese tell you when it is done.

Remove and spoon into separate dishes while nice and hot, topped with Pecorino-Romano cheese to taste.