Lately I am on a bit of a roll with Italian soup recipes. And why not? Soups provide a lot of bang for your buck. They can be so easy to imagine and cook up, the return on investment is high. I cooked up this Italian Soup With Orrechiette Pasta, Spinach and Pancetta the other night for dinner, and it was quite the hit. Admittedly, I am not the biggest tomato fan (unless it is a tomato sauce, yeah I know, weird) but the stewed tomatoes in this soup came out perfectly.
And then enter the pancetta. Yeah, if a recipe calls for pancetta, don't you dare skip out on it. Delicious pancetta. Q: How can you possibly turn your back on little itty bits of Italian bacon? A: You can't. Worried about your health? It's okay. There's spinach too.
Lastly, don't forget the shredded Parmigiano-Reggiano topping. Get cooking, this is going to be delicious.
Enjoy the Italian Soup with Orecchiette Pasta, Spinach and Pancetta, here's how to make it: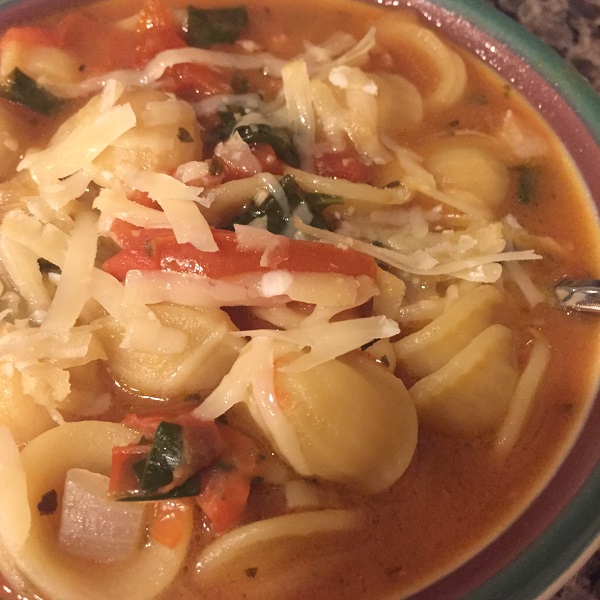 Italian Soup With Orecchiette Pasta, Spinach and Pancetta
A delicious Italian soup teeming with orecchiette pasta, stewed tomatoes, delicious spinach and outlandish pancetta.
Ingredients
2

tablespoons

extra virgin olive oil

1

medium sweet onion

(diced)

3-4

cloves

garlic

(minced)

1 3/4

cups

fresh tomatoes

(diced)

3/4

cups

fresh tomatoes

(julienned)

4

ounces

fresh pancetta

2

tablespoons

butter

4

cups

chicken stock

2

cups

baby spinach

(no stems, rough chopped)

1

teaspoon

oregano

1

teaspoon

basil

1

teaspoon

crushed red pepper

kosher salt and pepper

3

cups

Orecchiette pasta

Parmigiano Reggiano cheese

(shredded, to taste)

Several slices of crispy Italian bread
Instructions
Heat extra virgin olive oil in a large saucepan over medium heat. Add onions and sautee for five minutes. Then add the garlic, saute for 5 more minutes.

Next, add the chicken stock, tomatoes, pancetta and butter and bring to a slow boil. Reduce the heat to low-medium and add the Orecchiette, oregano, and red pepper.

Allow to simmer for 30 minutes and then add the spinach and basil. Check the salt and peppers seasoning and season to taste.

Simmer for an additional 20 minutes or until the Orecchiette is cooked al dente.

Serve piping hot, topped with some shredded Parmigiano-Reggiano cheese. And of course some chrispy Italian bread on the side for dipping.