Fettuccine al Pomodoro is intended to be a lighter and more quickly made pasta dish than pasta with the long cooked meat sauce. I developed this recipe after first making my Italian Orecchiette Soup, and realizing that the broth in that soup was just as delicious on the second day, when it had thickened up considerably after being in contact with the pasta overnight. So I started figuring out how to make the thicker sauce from the get go, essentially by making a thicker version of the Orecchiette Soup broth. And also decided to add chopped olives and some carrot shreds! Oh yum!! The end result was an elegant but simple and quick pasta dish.
Again the dish is made with pancetta and spinach. The fettuccine pasta pairs well with this sauce. Cooked al dente, the thick fettuccine stands up well to the sauce.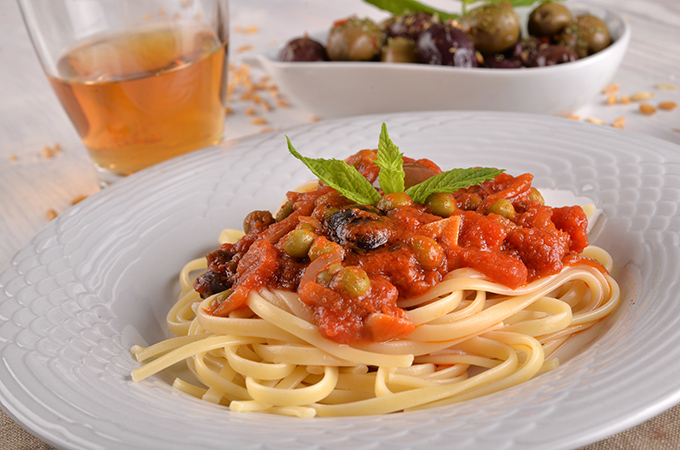 Enjoy the fettuccine al pomodoro. We sure did! Here's the recipe.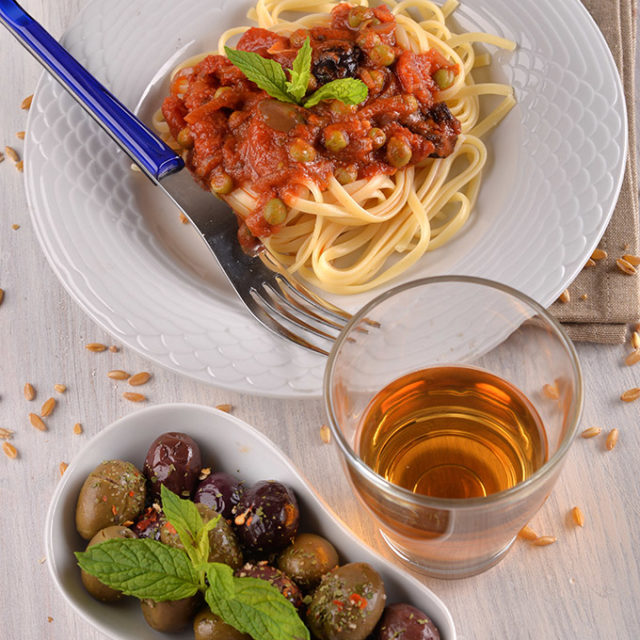 Fettuccine al Pomodoro
A light and quick fettuccine al pomodoro recipe that is guaranteed to satisfy. Did I mention the pancetta?
Ingredients
2

tablespoons

extra virgin olive oil

1

medium sweet onion

(diced)

3-4

cloves

garlic

(minced)

1¾

cups

fresh tomatoes

(diced)

¾

cups

fresh tomatoes

(julienned)

1/2

cup

shredded carrots

4

ounces

fresh pancetta

1

cup

oil-cured green and black olives

(pitted and chopped)

2

tablespoons

butter

1

cup

chicken stock

2

cups

baby spinach

(no stems, rough chopped)

1

teaspoon

oregano

1

teaspoon

basil

1

teaspoon

crushed red pepper

kosher salt and pepper

flour and corn starch

(for thickening the sauce, if desired)

1

lb

fettuccine

Parmigiano Reggiano cheese

(shredded, to taste)
Instructions
In a saucepan, cook the fettuccine in well-salted water until al dente, as directed. Time this so the fettuccine is finished around the time the sauce is finished cooking.

Heat extra virgin olive oil in a large saucepan over medium heat. Add onions and sautee for five minutes. Then add the garlic, saute for 5 more minutes.

Next, add the chicken stock, tomatoes, carrots, pancetta and butter and bring to a slow boil. Reduce the heat to low-medium and add the oregano, and red pepper.

Allow to gently simmer for 45 minutes and then add the spinach, olives and basil. Check the salt and pepper seasoning and season to taste. If you want to thicken the sauce, sift together 1/2 tablespoon flour with 1/2 tablespoon corn starch and mix into the sauce gradually.

Simmer for an additional 10 minutes.

Drain the fettuccine and combine with about 1 cup of the sauce to give it a coating to prevent sticking together.

Plate the fettuccine and top with a generous ladelful of the sauce. Serve hot, topped with some shredded Parmigiano-Reggiano cheese if desired, with a side of olives.